Yet Another System Set Up To Fail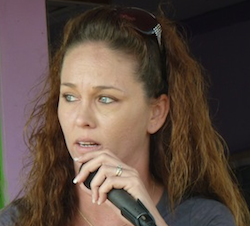 By Kindra Arnesen.  I want to tell you about the Gulf Claim 20 Billion $$$$$ BP paid fund. Now I am no writer so please forgive the incorrect spelling & or improper use of english Thank You. Ok, so 20 billion.  I am going to address the fishries & a few other things keeping it as simple as possible.
The Gulf Recreational & Commercial Fisheries combined annual revenu is 11-12 BILLION per year. GCCF has put it out there that they will pay loss income for all ligitament claims for 2 years.
So just the fisheries totals out for 2 years to between 22-24 billion $$$$.
Now think about the Hotels, resorts, bars, Resturaunts, gas stations, casino workers, Strippers, people in 48 states have a claim submitted, 450,000+ claims, now add in the Federal Gov, the State Gov, The Parish/ county Gov, etc then fines the list goes on and on you get the point right.
I know for a fact everyone who has been quiet has thought if I can just recover financaly all will be ok well HEAR IT IS .
 
PEOPLE ON THE GULF COAST HEADS UP YOU ARE ABOUT TO BE TAKEN ADVANTAGE OF!!!
MOST  OF OUR GULF CITIZENS ARE GOING TO LOOSE EVERYTHING THEY HAVE!!!
THERE WILL BE A FINACIAL MELTDOWN, DUE TO LACK OF PAYMENT!!!
MOST OF WHAT IS ON THE COAST IS FAIRLY NEW WITH NO EQUITY !!!
AFTER SITTING TROUGH A FORUM & LISTENING TO Dr. WILMA SUBRA, I KNOW CAN CONFIRM THAT SOME OF THE SEAFOOD IN THE GULF IS CURRENTLY CONTAIMINATED WITH BPs CRUDE.
BY THE TIME EVERYONE RELIZES THIS, BP Hmmmm THEY WILL B GONE BECAUSE DESPERATE PEOPLE WILL BY THAT TIME HAVE SIGNED OFF, WE WILL BE HERE HOLDING AT THE LEAST A CRUDE FISHERY
OOOO I KNOW WHAT SOME ARE THINKING WELL MOTHER NATURE SHE TAKES CARE OF ALL OK SO SAY SHE DOES WHEN, IS THE QUESTION,IN 2 YEARS, IN 5 YEARS, IN 10 YEARS 20 Dr. WILMA SUBRA REPORTS THAT WE THE PEOPLE WILL LIVE  WITH THIS FOR GENERATIONS..
STILL TODAY OUR MARSHES ARE OILED OUR GULF IS OILED SPITTING IT OUT UP & DOWN THE COAST.
WE MUST STAND UP & DEMAND ACTION FROM OUR OFFICALS.
AND FOR ALL YOU GULF RESIDENTS IF YOU OR SOMEONE YOU KNOW ALONG THE GULF HAVE SUDDENLY BECAME ILL ON & OFF YOU MAY WANT TO GET THE VOLITLE SOLVENT PROFILE BLOOD SCREEN DONE THE TEST IDENTIFIES VOCs IN THE BLOOD CONSIDER YOUR LONG TERM HEALTH METEMATRIX MAKES THE TEST. SO I WILL END WITH THERE IS NOT ENOUGH MONEY TO PAY FOR THE CLAIM OR THE MEDICAL BILLS FOLKS WILL ENCURE OVER THE NEXT 25+YEARS, SO THINK YOU STILL NEED TO BE QUIET.
GOOD LUCK TO YOU AND YOURS
 
HELLO DID YOU GET IT???
 
WE ARE SCREWED.
 
PEOPLE OF THE GULF COAST PLEASE I AM BEGGING YOU WAKE UP.
 
KINDRA ARNESEN
Kindra Arenesen is a self-described "bayou girl" from Plaquemines Parish, Louisiana.  She is the wife of a commerical fishermen, turned clean-up worker by the BP disaster.  Kindra has become an outspoken advocate for Gulf Coast communities, speaking out about the impacts of the BP disaster.
Photo of Kindra by Ada McMahon.