Another Arrest in the East Texas Keystone XL Pipeline Fight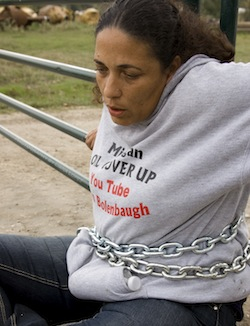 Originally posted in the San Antonio Current, October 25th, 2012. WINFIELD, Texas — The Price family in Winfield woke up to a world of protestors yesterday morning as the struggle for Texas landowner and environmental rights made its way further across rural East Texas and the proposed Keystone XL Pipeline route. Around 9 a.m., Cherri Foytlin, the  40-year-old Louisiana mother of six, chained herself to the TransCanada pipe yard entrance gate on US 67 in Winfield in an attempt to disrupt construction of a pipeline she believes is harmful to the environment and to the safety of the workers that are building it.
"I know the workers here are probably a little aggravated because we're slowing them down but I'm doing this for them too," she said. "I'm a survivor of the BP oil disaster in the Gulf of Mexico.  The first people that were killed on the Deep Water Horizon were the oil workers.  I believe they deserve clean air and water, as well as a safe place to work."
It's the latest protest action in rural East Texas in response to the highly controversial pipeline that would stretch from Canada to the Gulf of Mexico.  In the last month, several protestors, one landowner, and movie star Darryl Hannah have all been arrested in Wood and Franklin counties. Foytlin is the first Keystone XL protestor to be arrested in Titus County. "I'm doing this out of protection for future generations, for my country and for my earth.  I'm doing this so my babies won't have to," Foytlin said. "I want to inspire a few more people to stand up and do the right thing for our country and our ecosystems.
Photo of Cherri Foytlin by Liana Lopez.
"We're in a crisis situation with climate change. Clean air and water is a human right."
A Winfield PD officer stood over my shoulder as I interviewed the landowner. "They're doing what they can.  They try to keep the dust down with the water trucks.  They use flaggers to control traffic.  They're just doing their job," Price says. "My son-in-law is working on a pipeline in South Dakota.  He would work here if he could."
None of the dozen or so TransCanada employees care to comment for this story. The workers milling around behind the gate make sure to document everything with video and still cameras. One worker approached the gate and stood next to Foytlin as a co-worker on the other side huffed, "I don't care about this shit."
Six 18-wheeler trucks were parked on the side of the road waiting to enter and two TransCanada employees high-fived each other when the sheriffs arrived an hour later.
One protestor thanked me for coming out, the only media in sight.  "It's freaky when press don't show up cover these actions," he said. "I was doing the same thing you were doing when my camera was taken away from me and was told I was being arrested."
Winfield's Officer Wardrup confirmed it's the first time anyone has been arrested in Titus County for protesting the Keystone XL pipeline — then he warned me about how I parked my car on the side of the road, saying that I was not having an emergency and that I needed to be careful.
*********
Liana Lopez is the producer and co-host of Nuestra Palabra: Latino Writers Having
Their Say on 90.1 FM and www.KPFT.org (Pacifica – Houston Radio.)  She is a freelance writer and photographer for the Houston Press (Village Voice Media) and many other publications. She is also the recipient of a Houston Arts Alliance Emerging Artist grant for a multimedia/photography project based on her travels through post-revolutionary Nicaragua.