Consent Decree between NOPD and DOJ includes Unprecedented Victory for LGBT Youth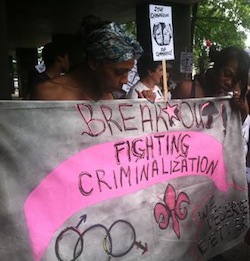 By Wesley Ware, BreakOUT! The Consent Decree between the New Orleans Police Department (NOPD) and the Department of Justice (DOJ) released last week is the furthest the Department of Justice has ever gone in addressing profiling and discrimination against the lesbian, gay, bisexual, and transgender (LGBT) community. This unprecedented victory is in large part thanks to the work of the members of BreakOUT!, an organization that fights the criminalization of LGBT youth in New Orleans.
BreakOUT!'s youth members, along with other community members, courageously shared their stories with the Department of Justice on several occasions and have shone a light on the discrimination they've faced at the hands of NOPD. They also studied LGBT law enforcement policies from Washington, D.C., Portland, New York, and San Francisco, and provided multiple recommendations for NOPD reform.
Photo: BreakOUT! members rally in front of City Hall in New Orleans.
As a result, the 2011 federal investigation of the NOPD named discriminatory policing toward the LGBT community as an area of top concern. The investigation's Executive Summary states, "…transgender women complained that NOPD officers improperly target and arrest them for prostitution, sometimes fabricating evidence of solicitation for compensation." It goes on to say, "Indeed, community members told us they believe some officers equate being African American and transgendered with being a prostitute."
These were just some of the problems that sparked the "We Deserve Better" campaign, BreakOUT!'s campaign to reduce discriminatory policing in New Orleans by implementing LGBT policies in the NOPD, getting a seat on Advisory Committees to the NOPD, and securing training in the Department based on national "best practices" with local community involvement.  The campaign, named by youth members to convey the basic human rights of LGBT youth, bears the same name as a video members developed in partnership with FosterBear Films, which is now being shown in officer trainings at the NOPD Training Academy.  You can watch the film here.
Now, over two years after the DOJ began its investigation of the NOPD, they have entered into a Consent Decree with the City of New Orleans, which is a legally binding set of agreements that lay out a path toward NOPD reform.  The Consent Decree outlines concrete measures to address profiling and discrimination against the LGBT community, marking the first time the DOJ has gone to such lengths to ensure the full incorporation of LGBT-specific provisions.  In addition to mandating the NOPD develop an LGBT-specific policy and strengthen trainings for officers, are measures to ensure:
Sexual orientation and gender (i.e. "Walking while transgender") cannot be used as probable cause for a stop or arrest.
The NOPD must adopt policies to ensure that transgender people are referred to by their preferred name and appropriate gender pronoun.
Transgender people will not be subjected to overly invasive searches due to their gender identity or to solely to determine their anatomy or genitalia.
Same-gender searches are to be done in accordance with gender identity.
Of course, while full justice and freedom from biased policing is a vision much larger than can be won in federal courts, this is nonetheless a great milestone in BreakOUT!'s work and an invaluable tool for community members to use in the fight for accountability in one of the most corrupt police departments in the country.
Wes Ware is the founder and Director of BreakOUT!, an organization dedicated to fighting the criminalization of LGBTQ youth in New Orleans, LA, and is a 2011 Soros U.S. Justice Fellowship recipient. As the LGBTQ Project Director at the Juvenile Justice Project of Louisiana, he authored the report "Locked Up & Out" and helped implement a model LGBTQ policy at the local juvenile detention center. His essay, "'Rounding Up The Homosexuals': The Impact of Juvenile Court on Queer and Trans/Gender Non-conforming Youth" is published in the anthology, Captive Genders: Trans Embodiment and the Prison Industrial Complex. A native Southerner, he firmly believes in the power of LGBTQ youth in the Deep South to achieve gender self-determination and liberation for all of us.