Guestworkers at Gulf Coast Walmart Seafood Supplier: 'We Feel Like We are Slaves'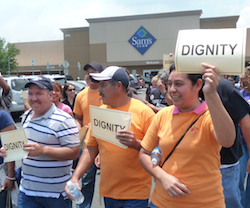 For most people in Louisiana, cracking the shell off a crawfish, sucking the head, and swallowing the tail meat is a joyous part of what it means to call this place home. But peeling crawfish is not so fun for guestworkers from Mexico, who allege that they are facing slave-like conditions in a Louisiana plant. Eight striking guestworkers, who say they are sometimes forced to peel and boil crawfish for up to 24 hours straight without overtime pay, outlined the alleged abuses in a rally outside of a Sam's Club in Metairie on Wednesday, June 6th. That same day, they filed complaints with the Department of Labor and the Equal Employment Opportunity Commission against their employer, C.J.'s Seafood of Breaux Bridge, La., on behalf of the forty guest workers employed there. C.J.'s Seafood sells an estimated 85% of its crawfish to Walmart, the largest retailer in the United States, and owner of Sam's Club. 
The workers cited abusive treatment from Michael Leblanc, the general manager of C.J.'s Seafood. Leblanc is also head of the Crawfish Processors Alliance, which is fighting the Department of Labor's recent efforts to improve pay for H-2B guestworkers. Leblanc could not be reached for comment. NOLA.com reported that a Sam's Club spokesperson said in an email that the company was investigating the allegations.
Alleged Abuses in the Walmart Supply Chain 
The workers, who went on strike Monday, June 4th are asking Walmart to end forced labor at C.J.'s seafood, to cooperate in a public investigation, adopt industry standards, and protect the workers whose families were allegedly threatened for organizing. As eight striking workers and a handful of their supporters tried to deliver a letter outlining those demands, Sam's Club employees blocked the entrance, refused to accept the letter, and called the police.
"We're not here to blame Walmart. We know it's C.J.'s Seafood that committed the violations. But they sold their crawfish to you and you made your profits," Saket Soni, Director of the National Guestworker Alliance and of the New Orleans Workers Center for Racial Justice, told Sam's Club management as they blocked the doors. "You already have standards, all we want is for you to implement them." He said C.J.'s Seafood violated seven out of 11 of Walmart's own labor standards for their suppliers, and must be called into account.
The rally at Sam's Club was planned by the National Guestworker Alliance, which is helping the C.J.'s Seafood workers organize for their rights and file complaints to the Department of Labor. The NGA grew out of a project of the New Orleans Workers Center for Racial Justice.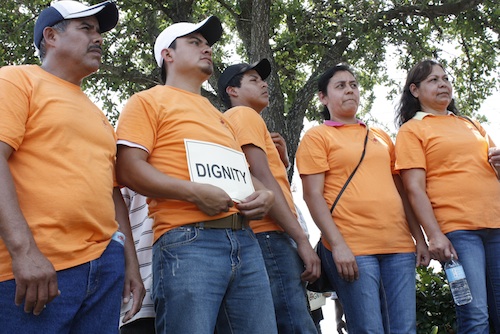 Photo: Striking guestworkers spoke at the Sam's Club in Metairie, La., about their experience of exploitation at a crawfish plant. 6/6/2012. By Chelsea Grayson.
Guestworkers: "We feel like we are slaves"
 The workers are in the United States as guestworkers with H-2B visas, which allow foreign nationals to work temporary non-agricultural jobs if the employer can demonstrate that "there are not sufficient U.S. workers who are able, willing, qualified, and available to do the temporary work." (U.S. Citizen and Immigration Services) Forty guestworkers from Mexico work at C.J.'s Seafood peeling and boiling crawfish for five months out of the year, and then return home.
"The salary here is better. But the treatment is worse,"* says Ana Diaz, who has worked at C.J.'s Seafood for eight years. "Can you imagine what it's like to get off work at 5 pm after working for 15 hours and go eat, take a shower, and have only 3 hours to sleep before you have to start all over again?," asks Diaz, a 40-year-old mother of four. 
"We put up with this until now because of the pressure that we have to maintain our families back home," explained Fernando Navarro. 
"They charge us $45 a week to live in crowded trailers next to the plant. They're very old, the air conditioning doesn't work, and there's rats in the trailers," says Martha Uvalle. "They'll come and wake us up early in the morning and say, 'Well you guys have to work tomorrow, so don't go out.' Even on Saturdays," says Uvalle. 
"We feel like we are slaves," adds Silvia Alfaro, who has worked at the plant for five years along with her husband and son.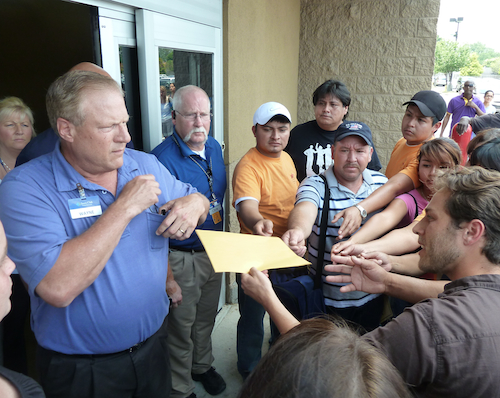 Photo: Sam's Club management (left) would not accept a letter from the striking guestworkers (right), whose employer, C.J.'s Seafood, sells 85% of its crawfish to Walmart. By Ada McMahon.
Daniel Castellanos, who was a guestworker in 2006 and co-founded the National Guestworkers Alliance, where he is currently an organizer, explains that though the H-2B visa provides legal status to foreign workers, it encourages abuse too.
"Sometimes worse [conditions] come with this kind of visa, because you are not free to go to another place. You are tied to one employer… It is very difficult to defeat the fear that you have to organize."
Castellanos says this fight is about more than just the struggles of guestworkers. "It's connected to other struggles, like the day laborers' struggle and the Black people in struggle. It's important to see the big picture, because they are displacing local people for bringing these cheap workers, who without rights are very easy to exploit. We are trying to change that, that is the reason for our strike, our struggle."
*All quotes, except by Soni and Castellanos, were translated from Spanish by Jacob Horwitz of the NGA.
******
Ada McMahon is a Media Fellow at Bridge The Gulf (www.BridgeTheGulfProject.org), a community journalism project for Gulf Coast communities working towards justice and sustainability.  She previously worked as a blogger and online organizer at Green For All, a national non-profit that fights pollution and poverty through "an inclusive green economy".  She is from Cambridge, Massachusetts, and currently lives in New Orleans, Louisiana.