Gulf Watch: BP Settlement Finalization, Jobs, and Protecting Immigrants Under VAWA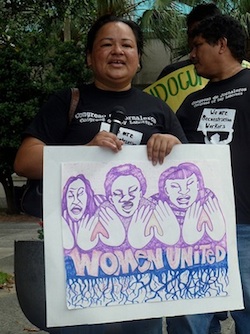 Roughly two weeks after the second year memorial of the BP oil disaster, a few moving parts are looking like they're coming to closure, even if not on completely amenable terms. The federal judge overseeing the trial against BP has approved settlement terms.  And Mississippi passed a law to encourage local hiring in the wake of disasters.  Meanwhile, national policymaking and politics that affect the Gulf Coast continue. On the immigration front, congressional changes to the Violence Against Women Act may lead to immigrant workers left even more vulnerable to nativist threats than they currently are. 
Federal judge Carl Barbeir has granted preliminary approval of the settlement waged in March to compensate those who suffered economic damages and health problems stemming from the oil disaster. Barbier said that he considered the objections to the settlement, including those from shrimpers who dislike the 2009 baseline for post-spill losses, shrimp processors, and vessel owners who need compensation for economic losses on top of the compensation they received for using their boats for disaster response. All objectors will be able to get a fair hearing, said Barbier, under this settlment, which allows them to file objections by August 31 or opt out of the settlement by October 1. There are many groups not covered by the settlement, though, including those who catch or process menhaden fish, people who don't live directly in Gulf coastal zones, and those who worked at least five years in the Gulf in jobs that would have exposed them to petrochemicals before the oil spill. The last group is a tough one given so many in the Gulf have made their living off of or near petrochemical facilities, because it's such a dominant industry on the Gulf. This is why it's important to emphasize the mostly forgotten recommendations of the Gulf Coast Ecosystem Restoration Task Force, which was created to address the legacy problems existing in the Gulf before the BP oil disaster.
One issue that Gulf coast citizens have been pushing for is the prioritization of local residents to be hired for restoration jobs horizoning as part of BP penalties. Burned in previous years after disasters like Katrina, where rebuilding jobs went to out-of-state companies and workers, Gulf residents vowed to never let that happen again. It's been Mississippi that has stepped up to the plate, by signing into law the Mississippi Jobs First bill, which gives the state's residents first dibs on jobs from federally funded public works projects. This is especially good news under a less-than-stellar employment report from April, where only 115,000 jobs were added last month, far below the 250,000-300,000 needed for a substantial economic recovery. As Sue Sturgis at Facing South reported using Bureau of Labor Statistics figures, Mississippi has one of the highest unemployment rates in the nation -- only six states, including D.C. have higher jobless rates. The industries that have added jobs are in high-skill or super low-wage skills, leaving fears that the middle-class is being left from the economic recovery. Ensuring that jobs from Gulf Coastal restoration -- jobs which likely will span all skills -- go to Gulf residents is one sure way to shore up all classes along the Gulf shore (sorry for over-shoring).
Last but certainly not least, typically the reauthorization of the Violence Against Women Act (VAWA) is a non-contentious event in Congress. But of course, this isn't a typical year. VAWA reauthorization is currently being held up in Congress by Republicans who were concerned that undocumented immigrants were granted a bit too many human rights under the act. As reported by Ryan Grim and Elise Foley at Huffington Post, VAWA orginally protected immigrants who were victims of spousal abuse by allowing them to confidentially apply for citizenship if they needed to get out of an abusive relationship where the abusing spouse was using the victim's citizenship status as a form of furthur abuse. Republicans now want to strip that confidentiality out of it, allowing the abusive partner to be notified of a victim applying for citizenship. Republicans allege that immigrants have been trying to game the system by falsely reporting abuse from their partners so that they can pursue citizenship on their own rather than through a citizen spouse. It's yet another attempt by Republicans to claim fraud as a way to wage war on immigrants and women.

I personally recall a case where a South American woman was held hostage by her spouse who forced her to do dehumanizing things under threat of him reporting her for deportation, and under a false promise of marrying her, which would make her a citizen. Tragically, the man doing this was a "civil rights" lawyer, or at least worked for a civil rights law firm. She was ultimatey rescued from the abusive relationship and allowed to pursue citizenship on her own, without the dark cloud of her abusive partner hanging over her. Under the new Republican adjustment to VAWA, this abusive partner would be notified of her every move in terms of immigraton status, which would keep her in an unsafe space. The new reauthorization would also restrict immigrants' opportunities to apply for citizenship while assisting law enforcement officials with investigating crimes. Immigrants have played a crucial role in rebuilding the Gulf Coast from Katrina to the BP oil disaster. Reports of domestic violence and other crimes have intensified since the BP disaster, and often times it is immigrants who are the victims in those cases. South American immigrants and African Americans fought hard to make sure Arizona/Alabama-like nativist bills would not be passed in Mississippi, as reported by Joe Atkins of Labor South. A similar coalition led by the New Orleans Workers Center for Racial Justice marched on May Day to protect immigrants and their advocates from being arrested and deported, as reported by Bridge the Gulf's Ada McMahon. The federal government should complement this work by expanding protections of immigrants, not making them more vulnerable to attacks.

Photo: Delmy Palencia speaks out about being targeted by Immigration authorities after a domestic dispute, at the 2012 May Day march in New Orleans.

New Orleans-based journalist Brentin Mock is Web Editor at Bridge The Gulf. He joins us after working with a number of Gulf Coast-based organizations including The Lens and Ocean Conservancy, and has reported extensively on the Gulf Coast for numerous outlets including Colorlines, The Daily Beast, Newsweek, The American Prospect, Essence, and The Root.