Hope at last! The Gulf Coast Detoxification Project is open and results are looking GREAT!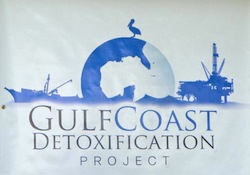 By the Louisiana Environmental Action Network. Health Concerns have gone unaddressed for too long. Detoxification program providing first sign of real solutions. 
 
It has been almost two years now since we began raising concerns about the possible health impacts of the Oil Disaster of 2010. We worked to advocate for clean-up workers, fishermen and coastal residents and ensure the use of appropriate safety equipment. Unfortunately, there have been many cases of health problems believed to be related to the oil spill. We have heard the same unbelievable symptoms being described by individuals across the Northern Gulf Coast. Most of these concerns have fallen on deaf ears.
We've done our best to get these concerns out to the public. Advocating everywhere from radio interviews to tv shows and through our own e-alerts.
Here's one testimonial from a sick clean-up worker, Chris Landry, and a tourist who became ill after swimming in the Gulf, ‪Stephen Aguinaga‬:
Video shot by Drew Landry.  See the rest of series of testimonials released on the LEAN website here.
To our knowledge, as of the date of this e-alert, NO health claims have been paid by BP for illnesses related to the Oil Spill of 2010.
While we have done our best to sound the alarm; awareness alone does not solve a problem. In early 2011, Marylee Orr, executive director of LEAN, reached out to Dr. Michael Robichaux.
Watch: Dr. Mike Robichaux speaking about growing health problems along the Gulf Coast
In the process of searching for solutions, a group of local divers who were experiencing health problems connected Marylee with Jim Woodward. Jim has managed detoxification programs for many years, including for first responders following the Sept. 11th attacks in New York City.
After over a year of struggles, thanks to the dedication of Dr. Mike, Jim and LEAN, we are pleased to announce that the Gulf Coast Detoxification Project has begun and initial results are looking GREAT.
The facility is operating in Raceland, LA under the supervision of Dr. Mike and has treated over a dozen individuals already. We will be releasing the first video testimonial of this programs success in the next few days. We hope to continue to be able to share positive stories as the program continues and those suffering find relief.
If you or someone you know feel they have suffered health impacts from the Oil Spill please contact:
           The Gulf Coast Detoxification Project
           (985) 664-1394
           Raceland, LA 70394