Meeting Introduces Vietnamese Community to Local Organizations in Biloxi, MS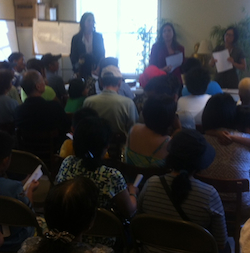 By Jose Cardenas. Biloxi, Mississippi – 89 people filled a small room at the Chua Van Duc Buddhist Temple on Oak St. in Biloxi on the afternoon of Tuesday, September 18th, for a community meeting held by Asian Americans for Change (AAC). AAC, a local organization, held the event to introduce other local organizations to the Vietnamese community.
Among the organizations attending were the American Red Cross, the Mississippi Fair Housing Center, the MS Coast Interfaith Disaster Task Force, The Southern Poverty Law Center (Full disclosure: I presented on behalf of SPLC) and the Beau Rivage Employment Specialists. One presenter who needed no introduction was Judy Jones of the Bethel Clinic and organizer of the local Food Voucher Program. Every month, the food Voucher program provides 50 food vouchers to Vietnamese families that are redeemed at Lee's Supermarket. The inherent volatile nature of the shrimping industry guarantees that at some point some families will not be able to make ends meet. The Food Voucher program is an indispensable program for the community.
The Small Business Administration's Emergency Loan Assistance program was the most popular presentation, highlighting the entrepreneurial spirit of this community. However, the indisputable stars of the evening were the great people of AAC. Connecting immigrant populations to those very services that would very much otherwise be out of reach due to language barriers or lack of awareness of such programs is a much needed and highly valuable service that should not be overlooked. The fact they were able to bring together 89 people on a Tuesday afternoon speaks to the importance and reach in the community.
Also by Jose Cardenas: Why I Got Arrested Protesting Alabama's Terrifying HB 56 Anti-Immigrant Law
Jose Cardenas is a community advocate for Southern Poverty Law Center's Immigrant Education Rights Project. He works with advocates across the Gulf Coast on issues affecting immigrant youth in the K-12 setting and on higher education issues.