The 'Southern 32' Take Stand Against SCOTUS Ruling On Racial Profiling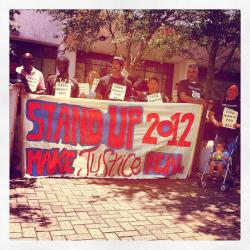 Neither a US Supreme Court ruling, nor the DREAMy concession from President Obama on easing immigration laws provided the protection needed for 32 immigrant workers in Louisiana who are at risk of being deported and separated from their families after speaking out about worker abuse. Just days after SCOTUS struck down most elements of Arizona's SB 1070 bill, but leaving the "show your papers" racial profiling component in tact, Delmy Dinora Palencia Gonzales grabbed a microphone with one hand, her toddler staring up from a stroller she steadied with her other hand, and announced to a small gathering in front of the Hale Boggs Federal Building in New Orleans' Central Business District that she was not afraid to stand up for her family and her rights. 
"I will not remain silent, I will no longer be afraid," said Delmy Palencia. 
Under a baking afternoon sun, Wednesday, June 26, Delmy Palencia stood with her fellow members of the "Southern 32" group of Latino immigrant workers who've been fighting for civil rights protections, and demands for the US government to cease deportations since launching the "Stand Up 2012" campaign on May 1. Her co-workers held banners that read "Make Justice Real" and "Justice. Necessary. Mandatory. Not Discretionary." A diverse cadre of supporters stood just behind the workers holding up small signs that read "Civill Rights For All."
Delmy Palencia is a member of the Congress of Day Laborers, the immigrant workers rights group that organized the demonstration. She's at risk of being deported domestic incident led to her being imprisoned for over a month, and then detained again, after her charges were dropped, for over 48 hours at ICE's request, which is unlawful.  You can read more about Delmy Palencia's story in Katy Reckdahl's Times-Picayune news story here. 
A mix of social justice advocates and New Orleans community members came out to hear the stories of the workers who said they were still vulnerable to losing lives they started here as workers, in many cases exploited workers, despite assurances from the federal government that they were not being targeted. State Rep. Wesley Bishop also joined them, explaining to the crowd how he helped fight off copycat SB 1070 bills in the Louisiana legislature. 
"The city of New Orleans could not have been rebuilt without you," said Bishop. "It would be unfair for us to turn our back on the very people who helped rebuild the city."
Ever since Katrina, when the Bush administration relaxed worker and immigration regulations with the stated goal of easing the recovery, Latino workers have moved to the region for construction and agricultural jobs. The immigrant workers have been pitted against black workers by businesses and law enforcement, which has led to depressed wages and uneasy tensions between some black and brown communities. But Alfred Marshall, an organizer with STAND with Dignity (an affiliate of the Congress of Day Laborers) said at the demonstration that black and Latino workers face similar vulnerabilities in Gulf Coast region workplaces, and that both are targeted by police. 
"[African-Americans] are being harrassed in our own communities for not having the right ID," said Marshall. "It's no different [than what is happening to Latino workers] so we stand in solidarity."
A June 26 ruling by the Supreme Court that invalidated most of Arizona's immigration law, but allowed Arizona police officers to demand the immigration papers of anyone they stop, arrest, or detain. A similar, harsher law was in effect in Alabama. Such practices can amount to racial profiling, since a police officer would have to rely on observations of a persons color to even consider if a person might be an immigrant. At the demonstration, Puentes activist Rafael Delgadillo said he "applauds the Supreme Court decision," but that "it doesn't go far enough" to protect Latinos. 
The Department of Homeland Security announced it was ending a program that would essentially deputized local law authorities to carry out federal immigration enforcement duties. But it turns out they're preserving part of the program so that certain local law enforcment can continue immigration actions for jailed suspected immigrants. Homeland Security pulled a similar switcheroo when ICE announced in 2011 that it would only focus on deporting convicted criminal immigrants, allowing discretion for considerations of deportation of immigrants who committed no crimes and who were pursuing civil rights complaints. 
The Southern 32 have been speaking out about workers rights, civil rights and human rights, yet they still face possible arrests, deportations and separation from their families. Which is why Delmy Palencia strolled out with her toddler son. "We are 32 people who came here to work," she told the crowd. "We're asking the President and the Secretary [of DHS] to stop the deportations."