Troubled Waters: Discussion with Vietnamese Community Advocate Daniel Nguyen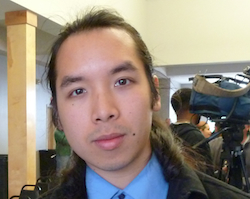 Daniel Nguyen works with the Mary Queen of Vietnam Community Development Corporation, which has been providing technical assistance for folks affected by the BP oil disaster. Nguyen recently spoke with Bridge the Gulf and the Institute for Southern Studies for the report Troubled Waters: Two Years After the BP Oil Disaster, a Struggling Gulf Coast Calls for National Leadership for Recovery.  He discussed the unique challenges facing Asian communities across the Gulf, teaching fisherfolk new skills, and starting aquaponic farmers cooperatives.
Bridge the Gulf / Institute for Southern Studies: How did the BP disaster affect the Vietanemse community you work with, specifically?
Nguyen: So in terms of the BP oil spill, we have to look at the whole context of the Vietnamese community here.  A lot of folks came from primarily fishing industries and fishing villages in Vietnam.  At the peak, we read that two thirds of the shrimping vessels in the Gulf were Vietnamese owned, and one in three Vietnamese were actually in the fishing industry directly.  So when you look at the 40,000 Southeast Asians along the Gulf Coast, that's a huge, huge population and a huge sort of percentage of that population that was directly impacted by the oil spill. 
BTG/ISS: When the spill happens, what did you see was the impact on the community?
Nguyen: The most evident impact was the unemployment rate.  From the Bureau of Labor Statistics the unemployment rate shot up two percent overnight, mainly because of the oil spill. I think some of the things that we see are not only just the employment issue, but also the subsistence use issue.  A lot of folks relied on the Gulf to basically feed themselves and their families and their neighbors and to create a livelihood.  So one of the things that we saw that was of great need in addition to the compensation process from the losses from the oil spill was we needed to find a way, in case the seafood industry never came back, that folks can create a living – either create their own business or another high quality paying job, but also a job that they can use to feed their families in a very real, material way.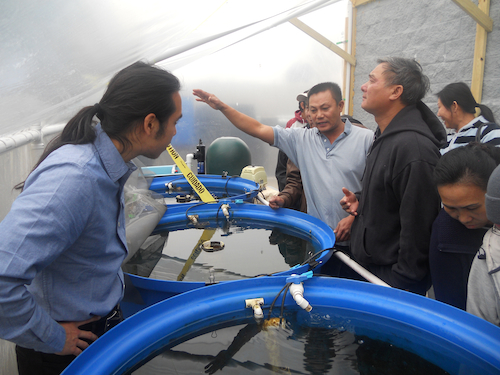 Photo: Daniel Nguyen (left) listens during an aquaponics training. Courtesy of Mary Queen of Vietnam CDC.
BTG/ISS: You just took me around to view some of these experiments, tell me just a little bit about what the thinking was behind that and where you see it going forward. 
Nguyen: So with that line of thinking in November of 2010 we had a two-day community summit in which community members developed an aquaponics project to address those two issues of workforce development and subsistence use, being able to use the product of your labor to directly feed your family and your neighbors.  From there we had a training facility that we built just on the side of our office and we partnered with Delgado Community College.  We partnered with Delgado Community College, Job1, and Goodwill to have a 40 hour class in which we train fisherfolks on the basics of aquaponics.  And from that we had funding from OxFam America to incubate a farmer's cooperative.  So we have now I think about seven or eight growers participating in the farmer's coop.  We just completed instruction of about five or six aquaponics growing systems plus greenhouses and other in-ground traditional plots as well.  So from November of 2010 until now which is pretty much April of 2012, we were able to supplement some folks, their income by almost one hundred percent, to the pre-BP oil spill stages levels.  We're hoping to increase that even further once we've built greenhouses and aquaponics which will enhance their growing capacity. 
BTG / ISS: Even though these disasters are huge, first Katrina then BP, other hurricanes, it seems they've drifted off the Nation's radar.  What would you tell the country or our leaders in Washington?  What would you tell them about what they should be thinking about, about the Gulf Coast. 
Well definitely, it's been almost two years from the oil spill, we have to take into account the economic context.  Even from Katrina, folks have been accruing debt since Katrina, and the BP oil drilling disaster had a huge impact on that.  And the last shrimping season, we all know was very dismal, and I would say two years from the oil spill, a lot of folks are still in a very economically tough situation.  And we're looking to get back on our feet, definitely, and the aquaponics farmers cooperative, Veggie Farmers Cooperative is a great example of that.  It was something designed by fisherfolks, it's owned and operated by fisherfolks, and it's a way for them to very concretely get back on their feet, so I think in terms of looking to the future, we have to look at not only how they restore the wetlands and our coast and how to restore the fishing industry, but also how to diversify the industries in the Gulf Coast.  So for example there is an oil spill, a huge sector of our community isn't going to be impacting that way, but we also have other industries to get into.  And whether it be aquaponics or another industry, I think something really important is to support community owned projects, something community members can support and really get behind, just like the fishing industry.  That's what makes the Louisiana fishing industry so great, is the support and really the pride of the fishermen in that industry, and I think we want to replicate that with other industries in the future as well.
BTG/ISS: It seems like ya'll have been able to accomplish so much.  What do you think is a key ingredient or a secret to your success?
Community support. I mean, one of the things we never talk about, the bread and butter of our job is to build relationships with people, and when you have the trust of people, and the support of the community members, that's when we really – not only is advocacy more effective, because you can really flush out what community concerns are and get community support, and rallying, when it's necessary for community members to rally in full force, but also in terms of program design.  For example, we could have just created a farm project to just create income, but they were like no, we also need to create a farm project that will enhance subsistence use, that will also increase food access for low-income people, you know, so we can trade and barter.  These extra aspects of it, you know.  Things like, "Oh, we also want to use this food in the future to provide food in the schools where our children go to, so they can eat healthy as well."  These sort of extra aspects don't come out of us sitting behind a desk and contemplating, but it really comes out of us building a relationship with community members and fleshing out ideas, so they can come up with their own comprehensive solutions to what they see is important or needs to be addressed in the community.  So that's definitely the key ingredient, is community engagement.

Interview conducted by Chris Kromm.  The transcript has been edited for clarity and length.
Download the Troubled Waters report from Institute for Southern Studies.
Read and watch more interviews with Gulf Coast community leaders.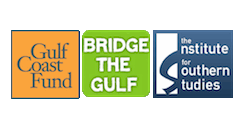 This content was produced by Bridge the Gulf Project and the Gulf Coast Fund for Community Renewal and Ecological Health, in collaboration with the Institute for Southern Studies.