We Have Lost One of Our Own, Stella Mae Smith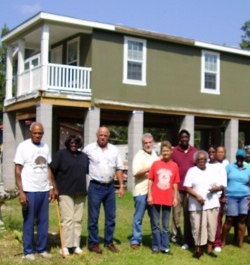 An Inspiring Community Leader from Bayou La Batre's Historic African American Community Passes. By Zack Carter. I am sad to report that one of our inspiring community elders, Stella Mae Smith of Snows Quarter, Bayou La Batre, Alabama has died. She suffered a heart attack at her home. Her funeral services will be held at Noon today, Saturday, May 12, at Bayou La Batre's Greater New Hope Baptist Church, 8420 E. Alba Street.
Ms. Smith's fighting spirit was handed down to her daughter, Phyllis Johnson, a leading member of a Gulf Coast multi-cultural fisher and seafood worker-owned cooperative - Alabama Fisheries Cooperative, Inc. One month after Katrina, Phyllis, a single mom raising two children on the meager wages paid to custodians, successfully stood in protest between her home and a bulldozer sent by the local mayor to tear down her "irreparably damaged" house.
Stella Mae Smith knew not go to Bayou La Batre's City Hall asking for rebuilding assistance: she went there and demanded it as her human right. And through sheer forcefulness and will power she got a rebuilt home!
Stella Mae and Phyllis are both pictured below in front of one of the 300-plus homes that were repaired or rebuilt in south Mobile County because of the grassroots advocacy and determined unity of all cultures, races, and creeds in "The Bayou". This victory was led by the grass roots organization, South Bay Communities Alliance -- a co-founder of Alabama Fisheries Coop, along with the Federation of Southern Cooperatives.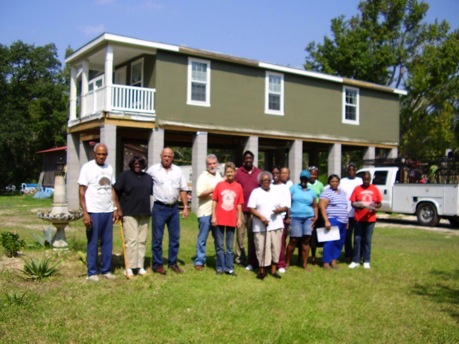 Pictured left to right: Earl Presley; Stella Mae Smith; Paul Nelson, Zack Carter, Becky Barbour, Ernest Montgomery, Gertrude Robbins, Neece Presley, Donna Hunt, Danielle McKenzie, Phyllis Johnson, Barbara-Jean Robbins, Michael Robbins, Rosie Robbins. (Photo by Stephanie Bosarge, 8/29/09). [From South Bay Communities Alliance's Katrina 4th Anniversary tour]
Stella Mae and Phyliss were also protesting on behalf of the 700 families who qualified for federal rebuilding funds in Mobile County but never received it (Read more: http://www.thedailygreen.com/living-green/blogs/cars-transportation/south-bay-community-alliance-solar)
Katrina displaced the largest number of people of any single disaster in our nation's history: more than 1,000,000 people, including half of the African-American population of New Orleans. The largest number of those made homeless, and the 2,000 who perished, were mostly in Mississippi and Louisiana, however: "The hurricane-damaged communities in Alabama are the most overlooked areas by the U.S. Government and are not mentioned in the U.S. Government's reports to the UN Human Rights Committee… Coden has never seen so many people pass away in such a short time… trying to survive in the [formaldehyde emitting] FEMA campers, and hoping to see their homes rebuilt."
(From a April 16, 2010 report submitted to the United Nations Human Rights Council by Advocates for Environmental Human Rights and The Gulf States Human Rights Working Group - download here.)
A few days after this report was submitted to the United Nations, BP's well exploded in the Gulf of Mexico.
BP's Oil and Dispersant Heaped On Top of Inhuman Katrina "Recovery Policies"
One of Alabama's Katrina victims pictured above with Stella Mae Smith is Becky Barbour. A multi-cultural roving press conference tour, the South Bay Communities Alliance's Katrina 4th Anniversary tour, began that day at Becky's FEMA camper. She was a widow and disabled subsistence fisher, yet Bayou La Batre Mayor Stan Wright demanded she vacate her camper, or face fine and imprisonment. He wanted to push her into his federally funded "Safe Harbor housing development". (See National Public Radio's Morning Edition).
A solidarity campaign -- including Becky's own testimony in New Orleans before a United Nation's team investigating forced evictions of Katrina survivors - kept her from being thrown off her land. Becky was able to keep the vow she made to her husband Tommy -- a long time labor leader among local oyster catchers -- to never leave their home of 36 years next to the Bayou. Sadly, we were not able to raise donations quickly enough to build a Katrina Cottage for her. Becky Barbour, a subsistence fisher, died a few weeks after the BP oil rolled into the bay and bayous of her home town.
Meanwhile many of the Katrina survivors who accepted relocation to "Safe Harbor" are once again facing homelessness today:
"It's uncanny timing. On September 30th 2011, a federal grand jury indicted Stan Wright, the Mayor of Bayou La Batre, Alabama, for stealing from a housing development built for Hurricane Katrina survivors. The very next day, October 1st, residents of that same development faced a rent hike that is forcing many of them to move out," wrote Ada McMahon on Bridge the Gulf.
In September 2009, when I first met Phyllis Johnson, she and her two children were still living in a home with half a wall missing, invaded with mold. Fortuitously a bus load of Katrina citizen advocates were being organized to do some citizen lobbying in D.C. Phyllis, Barbara Robbins, Rossie Robbins, all from Snows Quarters, made the 36-hour round trip. We were able to schedule a meeting at the White House in Speaker Pelosi's office. All showed photographs of their Katrina damaged homes and spoke forcefully. A few days after we returned to Alabama, a non-profit administering the Obama administration's stimulus funds reversed its rejection of Phyllis Johnson's application, and despite the Mayor's last ditch objection to issuing a building permit, her home was finally rebuilt.
However, Barbara Robbins' mother, Rossie Robbins, and hundreds of others in south Mobile County still live in homes damaged or destroyed by Katrina.
Phyliss Johnson's Courage Receives Rousing Applause from 1,500 Gathered in Chicago
Grieving hard for her mother, Phyliss Johnson kept her obligation last week and braved a 40-hour round trip train ride from New Orleans to Chicago to participate at the 2012 Labor Notes Conference. (We plan to give Bridge the Gulf a full report of this inspiring conference.)
When a plenary of some 1,500 dedicated trade unionists and Occupy leaders heard how Phyllis turned around the bulldozer sent to raze her home, they greeted her with thunderous applause!
Our panel delegation -- Phyllis Johnson, Barbara Robbins, and myself -- dedicated our two panel presentations and our statement in memory of Stella Mae Smith.
Stella Mae Smith and Phlyllis Johnson's audacity are still vitally needed today for those struggling with the unconscionable Katrina and BP policies of "disaster capitalism".  One proven alternative is democratic cooperative economics, its mission is illustrated in Phyllis Johnson's testimonial and tribute to her mother, and distributed to activists in Chicago this week.
"I have shucked oysters and picked crabs, for much of my working life -- I think it's one of the hardest jobs that exist. But when we own our shop, rotate the work, give folks a chance to learn other jobs, and share the profits equally, then it won't just be a job, it will be dignified work and could serve as a model for true recovery from the Katrina and BP Disasters. We are fighting for our jobs and for our homes. We are fighting disaster recovery policies that only benefit the wealthy and threaten to displace fishers and seafood workers. My mother taught me to never back down. When the mayor's bulldozer came to tear down my house, I stood between it and my home, and it was the bulldozer that backed down. With community solidarity my home was finally rebuilt. Mother died this week, but she would want me to be here today and tell you about our community's struggle for economic & social  justice -- it is a struggle for all working people in our country. SOLIDARITY FOREVER!"
Please wire flowers to Greater New Hope Baptist Church at 8420 E. Alba St. 36509. Or donations, to help defray the funeral costs, could be sent to Phyllis Johnson, at 8515 E. Rabby St 36509, tel. (251) 463-0535.
About me: I spent 15 years as a union organizer and rep, including 10 yrs. at AL Dry Dock in Mobile where I also worked as a machinist while serving in various elected positions of Shipbuilders Local 18. I also led our union in social issues, e.g. we demanded the local authorities charge all the KKK members involved in the lynching of Michael Donald. When AL Dry Dock shut down and raided our pension, Labor Notes helped us win nation-wide solidarity. I worked 8 years as a community organizer for Alabama Arise, and since August 2006 I helped South Bay Communities Alliance mount a grassroots nationally recognized campaign demanding human rights for Katrina and BP survivors.  Sponsored by the Federation of Southern Cooperatives, I have served the past two years as the Organizer for Alabama Fisheries Cooperative. The hardest and most rewarding job I have experienced was teaching high school -- for 3 years in Macon County, AL. When you meet a teacher thank and hug her or him.
[Bio updated 8/3/2012].