This Day, We Use Our Energy for Revolution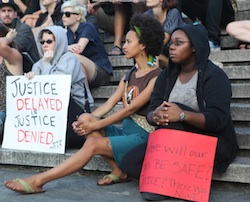 This is an excerpt from my speech during the Solidarity Rally for Trayvon Martin, on Sunday, July 14th at Washington Square in New Orleans.
Am I crying because yet again the Criminal Justice system, or the U.S. system of so-called justice, disappointed me again? I felt like a jilted lover because yet again, I looked for you to do something different, and you didn't. And you hurt me again.
This morning when I thought about it, I just had this overwhelming feeling of, please please please, let people feel and move – and be reactionary, because that's the first urge we get – but please can we move to revolution.
When I was in my early 20s, I used to go to meetings for the All People's African Revolutionary Party. And I didn't think it fit me as a Black queer woman, but it fit me in terms of what I felt needed to be done for my community. Remember I'm one of those people, always trying to decide what side I need to take.
I want a revolution. I want and I'm calling for a revolution, not in a very violent way. And I want to make sure people understand that. Sometimes when you say revolution, in this country, we fear that in some way that means violence. What it means is to have a plan.
You don't have to join Women with A Vision. We get it all the time "y'all don't talk enough about men". But sometimes you don't want to stand with me, because we do talk about queer people and women and their issues and criminalization. 
What I'm asking for, is join somebody! I am almost pleading, and holding back the level of emotion I'm feeling. Do something!
I've been talking to people all day. I don't want to hear one more person, in front of me – y'all can do it with each other, whoever you are, but not with me – tell me, "Well, young Black men kill each other all the time, so George Zimmerman couldn't respect Trayvon." Two separate issues!
I have no desire to change the minds of people like George Zimmerman. I will NOT waste my energy on that. Because I'll be dead and gone and my grandchildren will be still trying. But what we all can do is lend our energy to [fighting] those systems and the ideology that makes us think a certain way.
That we work within our communities so young Black men value themselves. How can you value what other people do not?!  So if you hear somebody say that to you, challenge them. You tell them that what they are dealing with is oppression, and poverty, and lack of education, and lack of love for self, and internalized racism. You tell them that.
I am not a begging woman, but I am almost pleading, pleading for every one person who is not here, I do not want this moment to go away, like every historical moment goes away, until another one happens, and we're talking about the last time, and remember, because it always happens!
I really want this time to be different. I want to figure out who we meet with this week, next week, once a week, once a month, and what community are we going in, what group are we going to work with, what conversations are we going to have within our community, with our families, about making things different?
I want to know next time OPPRC (Orleans Parish Prison Reform Coalition) is out there challenging the criminal justice system, or anybody in this city who is fighting for someone's LIFE – We talk about rights, but sometimes there's a thin line between rights and your LIFE – I want you to stand up. And I want you to be angry and frustrated enough that you can not longer sit down. That you get up in the morning, you say, "What am I gonna do today?" 
And for those of you who feel like you can't. If you feel like you cannot do it, then donate to those who will. Figure out how to support them. For somebody who runs a grassroots organization, I can tell you, the reason we exist, after an act of violence, was because of so many people out here. Whether it was a small party of $100, $500, it means another day for us to fight oppression and injustice in this city. So I ask you. Don't let this moment end and feel like,"I went to the park! And I supported that event in the park!"
Tell me six months from now that you're still supporting this event. Tell me a year from now you are still supporting this moment. That you wake up! I like putting things out in the universe: That you speak. That we speak.
This day, we use our energy for revolution.
Photo by Sasha Matthews.
This excerpt is missing the beginning of Deon's speech. Please email bridgethegulfproject@gmail.com if you recorded it. These remarks have been edited slightly for clarity.
Deon Haywood is the Executive Director of Women With A Vision, Inc. a community-based grassroots organization created by black women dedicated to providing HIV/AIDS, Substance Use prevention services, Harm Reduction, Health Promotion and Advocacy to address risk behaviors and social vulnerabilities. Deon is a longtime activist in the city of New Orleans with a history of organizing low-income women of color around Reproductive Justice,and Women's Rights. Deon is on the advisory board of BreakOUT, a project of the Juvenile Justice Project of Louisiana (JJPL) focused on the criminalization of LGBTQ youth. Also board member of the Louisiana AIDS Advocacy Network (LAAN). As an expert in community outreach and organizing marginalized groups. Deon was recognized in The Body.com 2010 HIV/AIDS Community Spotlight. In 2011 Forum for Equality Awarded her the Political Activism Acclaim Award. Currently, she is spearheading the No Justice Project, a campaign which addresses the criminalization of sex workers, who are largely poor women and transgender women of color, and the excessive and inequitable punitive consequences of conviction under Louisiana's Crime Against Nature Solicitation Laws.