Under Siege by Tar Sands, Gulf Coast "Draws The Line"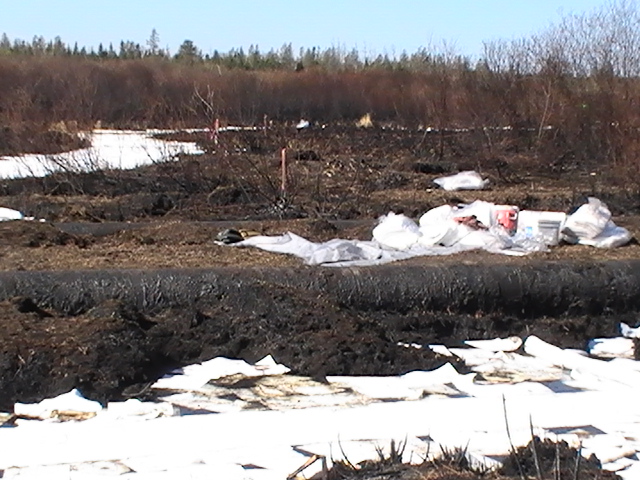 The first time I saw a picture pertaining to tar sands extraction, was on Marty Cobenais' computer. We were both attending an event in Houston, Texas, and found some time to talk shop.
By this time I knew well of the struggle to stop the Keystone XL – the proposed 2,174 mile long pipeline that would carry toxic bitumen (tar sand oil) from Canada to the Gulf Coast. In fact, just a few months prior I had been one of the 1,252 people arrested in front of the White House in protest of the project which then NASA scientist James Hansen has called "the dirty needle" and "game over" for the planet (Marty had been arrested too, but on different day than I).
Photo:  Pipeline spill near Deer River, Minnesota (Photo credit: Marty Cobenais)
I knew about the carbon bomb that the Keystone XL had the potential to be, and that coupled with the 12 to 17 percent higher greenhouse gas emissions from its extraction, this pipeline and the continuation of production would yield more of the devastating impacts of hurricanes on my beloved Gulf Coast. It was the global warming connection, which scientists have repeatedly confirmed contributes to deadly storms like Katrina and Rita,  that launched my interest in fighting against the tar sands.
The first photo Marty showed me that day was of a man holding what, at initial glance, looked appropriately like a large cow patty. As I pulled the screen closer, I became startled by the similarities between the glob of heavy sand and oil and one of BP's tar hunks that I have seen so frequently since the deep water drilling disaster.
As Marty, who is Red Lake Ojibwe and a "champion pipeline fighter" with the Indigenous Environmental Network, began flipping through his collection of photos, he told me about the devastating and egregious health and economic impacts that tar sand operations in Canada have caused to our relatives up North. The health impacts, including an increase in leukemia and lung cancer,  mirror not only some of the specific health effects of the BP disaster, but also of historically marginalized environmental justice communities all along the Gulf Coast.
As for the extraction process itself, Marty's photos depicted that of an alien landscape. Comparison photos of the once lush and boldly beautiful Canadian Boreal forest next to the black and grey "mines of Mordor," made my heart sink. As pictures of scarred earth alongside repugnant tailing ponds flashed upon the screen, I realized that big greasy balls of toxins lying at our feet are not all that Gulf Coast communities and Canadian First Nations have in common.
Actually the list of similarities is quite long, including: toxic ponds that leech poison into water and air, similar to those found in Grand Bois, LA; a rise in asthma symptoms among children, like those living in Manchester, TX, and Baton Rouge, LA;  struggling economies and poverty stricken fence line communities, such as Port Arthur, TX, Mossville, LA, and Africatown, AL; the desolating loss of culture and subsistence living, comparable to that of Gulf Vietnamese American fisher folk, Gulf Coast First Nations and of Acadian fishing communities.
From "Cancer Valley" in Canada to "Cancer Alley" in Louisiana, and all along the Gulf Coast, - health denied, food deserted, poverty stricken, education deprived, school to prison, voiceless communities, being destroyed by industries that prefer the health of their bottom line to that of the people they effect – the quiet shame of an entire continent, pinned between a lack of representation, a bought out system of government and billions of muscular corporate dollars.
It was then that I realized, the Gulf Coast had found her sister, (just as she had in Appalachia, in Valdez, AK, in Mayflower, AR, in Kalamazoo, MI, in the Niger Delta, the Caspian Sea, Indonesia, Bhopal, and on, and on).
I thought to myself, I am viewing the first victims of tar sands extraction, and if the Keystone XL were to go through, the Gulf bound destinations of Port Arthur and Houston, TX, would be the second.
And so it was a sorrowful day, when soon after my revelation in Houston, the Keystone XL Southern Leg was green lighted by the Obama Administration. It was confirmed - the Gulf Coast would once again become the energy sacrifice zone for the nation.
More recently the building of the 485 mile southern leg has become a nightmare to both TransCanada and to the effected citizenship in Texas. While landowner Julia Trigg Crawford prepares to take her battle to the Texas Supreme Court,   pipeline construction has been delayed by courageous protestors and plagued with whistle blower statements of shoddy construction that harbors "dozens of anomalies, including dents and faulty welds," and that the company has been "ignoring pipeline regulations and engineering codes."
Yet while Texas battles to keep the tar sands snake out, Alabama is already receiving the venom. Presently, Canadian National is carrying diluted bitumen by rail, traveling south from Canada, through the Memphis, TN, area and through Mississippi, to Mobile, AL. From there it is trucked across the Mobile river to the Arc Terminal, where it is loaded upon a barge for transport to the Chevron Refinery to Pascagoula, MS.
But wait, it gets worse.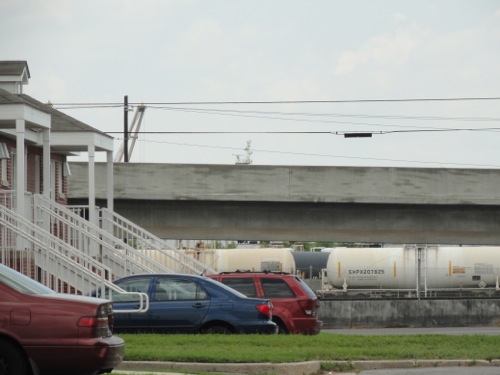 If a plan proposed by Arc Terminals is approved, Mobile could soon be receiving 120 rail car loads or nearly 2 million gallons a day.
Arc's plan includes building a rail car off-loading facility in downtown Mobile – three blocks from an existing housing development.  The facility will use a controversial steam heating process to heat the sludge-like tar sands enough to pump it through a pipeline under the Mobile River to Arc's storage tanks on nearby Blakely Island. 
Photo:  Front porches in Mobile's Orange Grove Homes housing development, with trains in the background. (Photo credit Karen Savage)
From there, residents fear it could go through a more than 30 year-old pipe, under historic Africatown/Plateau to the Plains' Ten Mile Terminal in Eight Mile, AL and then out to the Chevron refinery in Pascagoula, MS through a controversial Plains Southcap pipeline. 
Last year, with almost no opportunity for public input or comment, the Army Corps of Engineers granted Plains Southcap a permit to build the controversial pipeline under the watershed of Big Bear Creek Lake (which provides drinking water to all of the Mobile area), through numerous wetlands, across the Escatawpa River (twice) and through Moss Point, MS – another historic African American and environmental justice community. That pipeline is 70 percent complete and local officials are fighting to keep it out of the drinking watershed (although with no mention of the communities it will effect, even if the pipeline relocated).
Located in Jackson County, MS, Chevron's Pascagoula refinery was ranked as one of the highest polluting facilities in 2002. One year after ninety-five percent of that facility went under water during Katrina, health statistics for the area included 622 incidents of cancer, including 245 cancer related deaths. In 2007 alone, the refinery released over one million pounds of 47 different toxic chemicals; including 50,000 pounds of benzene and 150,000 pounds of ammonia. With the new intake of Canadian tar sands, high levels of life stealing, sulfur dioxide has been added to the cocktail.
And if that's not enough, plans are in the works to complete rail facilities that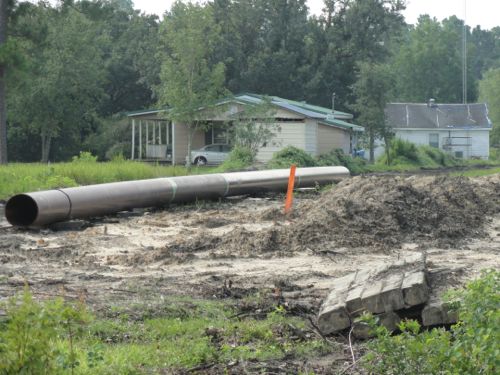 would move even more bitumen to the Gulf Coast, with facilities either planned or under construction in Louisiana (Manchac, St. Rose, Norco, Geismar, St. Gabriel, Baton Rouge) and Mississippi (Natchez). 
Photo:  Plains Southcap pipeline being laid near homes in Moss Point, MS  (Photo credit Karen Savage)
All of this, while Alabama Governor Robert Bentley and Mississippi Governor Phil Bryant ponder the commercial development of the Hartselle Sandstone area (found in the Northern portion of both states), for tar sand production. 
Meanwhile, the Enbridge Eastern Gulf Pipeline from Patoka, Ill to St James, LA, is preparing to force tar sands through their mostly repurposed natural gas line that will carry 660,000 barrels per day by 2015.
Twenty miles southeast of that Gulf destination, in Raceland, LA, Genesis Energy is planning a yet-to-be-permitted, new rail facility that will carry 140,000 barrels of "Canadian crude" per day. Although the initial plans for that structure did not include the steaming equipment necessary for tar sands transport, the companies' CFO, Bob Deere, was recently quoted as stating, "that's not to say it can't be added in the future."
If so, the toxic bitumen would then travel by a newly proposed pipeline infrastructure to St. James and Baton Rouge, LA, refineries for processing.
So, by adding the known list of coming and existing projects, the Gulf Coast has the potential of receiving upwards of 170 million barrels per day of toxic Canadian tar sands by rail and pipe, while on its way to foreign market – the knowledge of which is overwhelming. 
Yet, we must not hang our heads with impending doom to the days ahead. As Gulf Coast citizens and as members of humanity, we must join our Northern relatives in Drawing the Line in the tar sands to say, "No more!"
The September 21 day of action, hosted by 350.org, is the perfect opportunity for communities from Texas to Florida to join our "sisters" in sending a loud and clear message to local, state and national representatives, as well as to those corporations who would destroy our planet, that we will no longer be forced into the margin of sacrifice. That we will stand for and with Canadian First Nations and Gulf Coast communities who are, at present, locked in the tortuous back room of dirty, archaic energy production. We will defend ourselves and future generations from the sociopaths whose inverse priorities seek profit over life.
While it is my sincere hope that many of you will join me on that day in New Orleans for Draw the "Second Line" on Keystone XL,  I encourage you to consider hosting an event of your own.
To my mind, we have little choice but to keep up our commitment to deny life to the Northern leg of the Keystone XL as we simultaneously and fervently defend our coast from future spills, devastating hurricanes, and in protection of the many already over-burdened areas of our coastal states. We must stand as a stronghold against the human and ecological destruction our Mother Earth, for this is the surely fight of our time – it is surely, the fight of our lives.
Cherri Foytlin is a journalist, speaker, mother of six and wife of an oil worker, who lives in south Louisiana. She is the author of "Spill It! The Truth About the Deep Water Horizon Oil Rig Explosion," and regularly contributes to www.BridgetheGulfProject.org, the Huffington Post, and several local newspapers. In the Spring of 2011 she walked to Washington D.C. from New Orleans (1,243 miles) to call for action to stop the BP Drilling Disaster, and has been a constant voice speaking out for the health and ecosystem of Gulf Coast communities, in countless forms of media. As an advocate for climate justice, she has been arrested in front of the White House twice and has spoken to thousands at venues and rally's in the United States and Europe. In addition, she is a founding member of the Gulf Coast Chapter of The Mother's Project - Mother's for Sustainable Energy, Idle No More Gulf Coast and of "28 Stones" - A Gulf based media project which focuses on national movement building through art, photography, video and written word.