Gulf Coast Residents Appalled by Lack of Concern for Safety After EPA Drops BP's Ban on Federal Contracts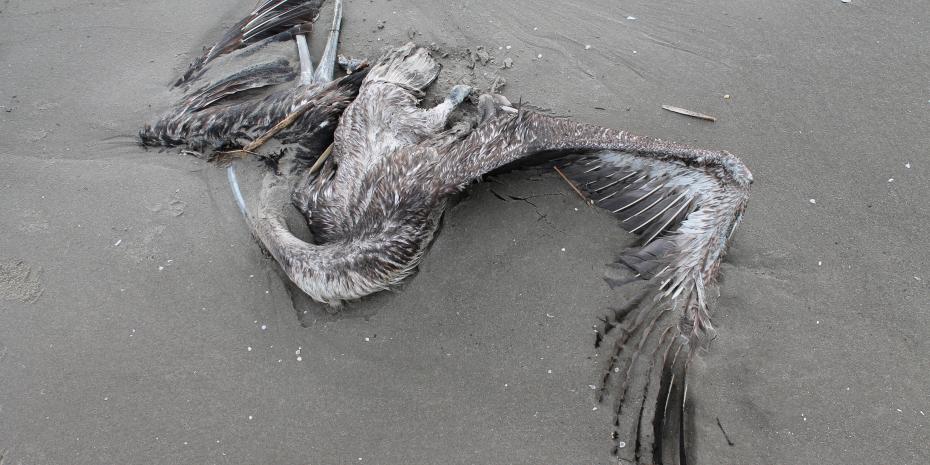 "It is outrageous that one year after BP plead guilty to manslaughter, it can now get contracts with our federal government based on BP's promise that it won't tell any more lies. EPA's decision to lift the ban on BP tells the families of the dead oil rig workers and our Gulf communities that our lives don't matter," said Monique Harden, New Orleans resident and Co-director of Advocates for Environmental Human Rights.
Dead Bird on Elmer's Island, March 9, 2014. Photo Credit: Cherri Foytlin
Harden was responding to the EPA's recent decision to lift BP's suspension and disbarment from obtaining new federal contracts. Gulf Coast residents and advocates say the decision disregards BP's dismal safety record, will endanger the lives of US citizens, and is a slap in the face to the eleven men who died.
The EPA banned BP from obtaining new federal contracts and oil leases from November 2012 until the ban was lifted on March 16th. Last year, the oil giant plead guilty to illegal conduct leading to and following the 2010 Deepwater Horizon disaster, including 11 counts of felony manslaughter, one count of felony obstruction of US Congress and violations of both the Clean Water Act and Migratory Bird Treaty Acts. Through their guilty plea, BP admitted to obstructing an inquiry by the US Congress, providing "false and misleading" information regarding flow rate and manipulating internal flow-rate estimates.
In August of 2013, BP sued the US government, claiming the ban was "an abuse of discretion", and the UK government issued a statement in support of the oil giant. The statement prompted several Gulf Coast organizations to urge Prime Minister David Cameron to withdraw that support and invited him to come see firsthand the continuing effects of BP's 2010 disaster. Cameron did not respond.
Meanwhile, across the Gulf Coast, residents are still waiting for BP to fulfill promises to "make them whole". 
"Almost four years have passed since BP blew through this town," explains Kindra Arnesen, South Louisiana mother of two and wife of a commercial fisherman. "Now the EPA has released BP to drill again. Our fisheries have been devastated, our health destroyed. What happened to 'making the people and the environment whole'? Despite the aggressive ad campaign orchestrated by BP, life here in the Gulf is not 'back to normal'. We are struggling. Now BP gets their life back. Where is the delivery on the promises BP made to us? We are still waiting."
"A few weeks ago, the taxpayers of Florida payed to have a half ton tar mat picked out of Pensacola waters," explained Cherri Foytlin. A recent Bridge the Gulf visit to Louisiana's Elmer's Island revealed dead birds and fish dotted along the tarball-littered beach.

Photo: Tar patty on Elmer's Island, March 9, 2014. Photo Credit: Cherri Foytlin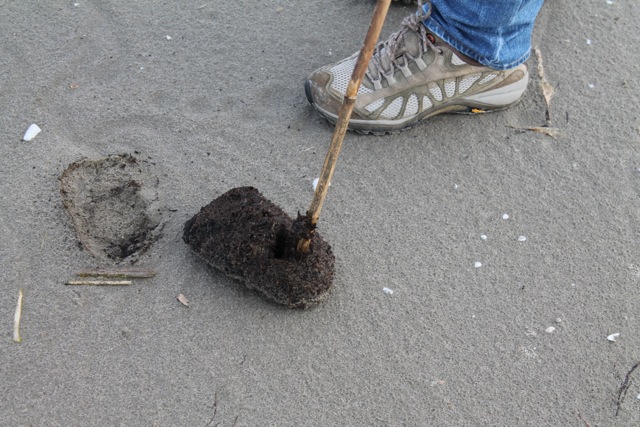 Recent studies have concluded BP's oil/corexit mix sickened fish as far south as Sanibel Island, Florida, and is responsible for heart damage in tuna  and a myriad of health issues in the dolphins of Barataria Bay. Residents say the agreement between the EPA and BP - which includes provisions for "ethics compliance" - is absurd, considering the oil giant's continuous and repeated attempts to back out of the Economic and Property Damages and Medical Damages Settlements which it agreed to with Plaintiffs Steering Committee (PSC), and which was approved by Judge Barbier in 2012.
They also point to BP's shoddy safety record.
"Would that be the same BP who was also convicted of a felony in 1999 for the illegal offshore dumping of toxins, when they received 5 years of probation?" asked Cherri Foytlin, South Louisiana mother of six and wife of an oil worker.  "Is it the same BP who in 2001 was found to have neglected key equipment which led to a 200,000 gallon spill in Prudhoe Bay? The same BP who in 2002 was cited with 42 OSHA violations?  Who in 2005 was found to have 'significant process safety issues' at all five US refineries, but only after they had killed 15 workers – loved ones to somebody - in Texas City. There was the blow out in the Caspian Sea in 2008. Then in 2010 they killed eleven of our brothers and countrymen on the Deepwater Horizon in the largest environmental disaster in American history, to which they plead guilty to eleven counts of felony manslaughter."
"The truth is that this company has no business here," Foytlin concluded, shaking her head. "This comes down to the might of the dollar against the fishing and oil worker families that deserve better. Shame on the EPA, shame on the administration, and shame on the American people for standing aside and letting your country do business with a serial killer."
 In 2012 former EPA disbarment attorney Jeanne Pascal remarked, "BP is a serious serial corporate environmental criminal and a corporate serial killer. They killed eleven people in the Gulf and fifteen people in Texas City - 26 people in the span of five years. BP always settles its cases with the government and promises to change its culture but it continues to do the same thing over and over again. They need to be held to the same standard that other [suspension and debarment] respondents are held to."
"They are paid killers of American culture, environment, and government credibility, not to mention human beings," added Derrick Evans, Mississippi resident and Advisor to the Gulf Coast Fund for Community Renewal and Ecological Health. 
"A chronic liar and convicted felon, the only thing you can count on BP to protect is its bottom line."
Karen Savage is a mother of four and teaches middle school math in the Boston Public Schools. She began volunteering in Mississippi's Turkey Creek community more than ten years ago, and now volunteers for Bridge the Gulf, Mothers' Project - Gulf Coast, the Gulf Coast Fund, and Turkey Creek Community Initiatives.