Port Arthur Texas – Climate Justice Hits Home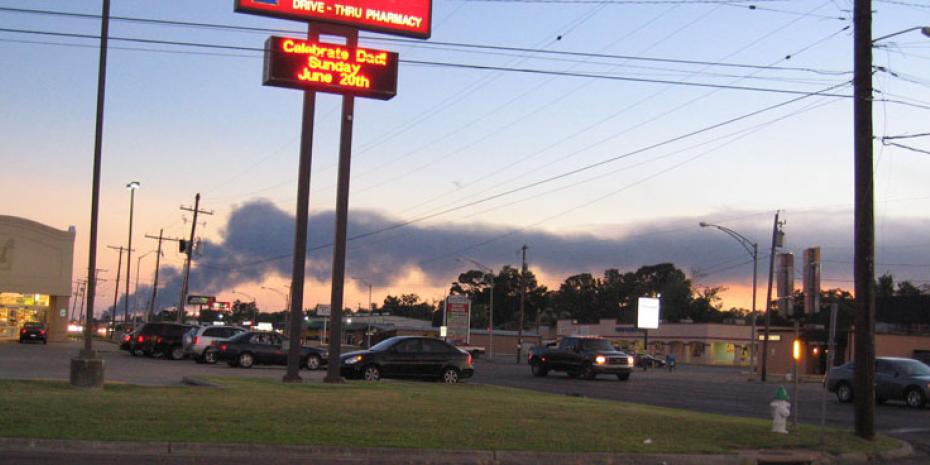 Originally posted in Environmental Justice In Action on August 12th, by Hilton Kelley
Texas is considered the "Energy State." In 2013 it was the leading crude oil-producing state in the nation; its 27 refineries exceeding even the production levels of off-shore production. That year Texas was also the leading natural gas producer in the country. Port Arthur, Texas, my home, sits on the Louisiana-Texas border on the Gulf Coast, right in the heart of this Texas energy hub. Port Arthur also is home to four major oil refineries, four chemical plants, one petroleum coke plant, and an international chemical waste incineration facility.
Many residents of Port Arthur, particularly those in the low income community of color, in the city's Historic west side, have been and continue to be disproportionately negatively impacted by carbon emissions, volatile organic compounds, and known carcinogens from these facilities. Based on a local door-to-door community survey, one out of every five households here has someone who suffers from chronic respiratory illnesses, many of whom are children. According data compiled by the Texas Cancer Registry, the county's cancer incidence rate is 25% higher than the state average. We have a large number of people in our community who have been diagnosed with cancer and liver and kidney disease. A separate study by the University of Texas Medical Branch found that the residents of Port Arthur are four times more likely than people who live 100 miles away to suffer from heart and respiratory problems, nervous and skin disorders, and other illnesses. The health problems endured by my friend Paula and her family are examples of the devastating impacts pollution is having in my community.
Smoke rises from Deepwater Horizon
The question of how much pollution one community can bear takes on a whole new meaning when talking about climate change. The ferocity of recent hurricanes has been unexpected, bringing in storm surges that reached to the top of the 100-year levee. Due to rising sea levels, a portion of Highway 87 leading to Galveston along the Gulf Coast has not been open for years because large sections have been washed out. Vast amounts of coastal marshlands and wetlands, which serve as natural sponges that trap and slowly release storm waters, are contaminated largely due to oil spills, big ones like the Deepwater Horizon disaster of 2010, as well as smaller ones too. There is a massive sinkhole in the Louisiana wetlands which is possibly leaking chemical waste from a very large underground injection well.
Hurricane Ike over the Gulf of Mexico
The emergence of serious storms and other significant weather changes only exacerbates the problems we are dealing with. Like the Murphy Oil flooding following Hurricane Katrina, storm surges will wash chemicals from their confinement into our neighborhoods. It's not just the major storms that wreak environmental havoc on coastal areas like ours that are home to oil and gas production facilities. In 2008, when Hurricane Ike (a Category 2 storm) caused hundreds of releases of oil, gasoline, and dozens of other substances into our air and water, facilities were damaged causing explosions and other catastrophes that only compound the suffering of my friends, neighbors and future generations.
The time to deal with climate change and related issues like chemical safety, chemical reduction, and community resiliency is now — people are dying because of over-exposure to dangerous substances. Human and wildlife habitats are being lost. Just as important, we are losing the culture and way of life of thousands of people along the Gulf Coast. We must do more to get local, regional, and State governments involved in the fight to reduce and combat climate change. Time is of the essence.
This must happen! Not next year, not next month, but right now.
About the author: Hilton Kelley is the Executive Director and Founder of Community In-power and Development Association Inc. In 2011, he received the prestigious Goldman Prize for his efforts on environmental justice.