The American Petroleum Institute, ChemRisk and BP: An "Independent" Study or Industry-Influenced Science?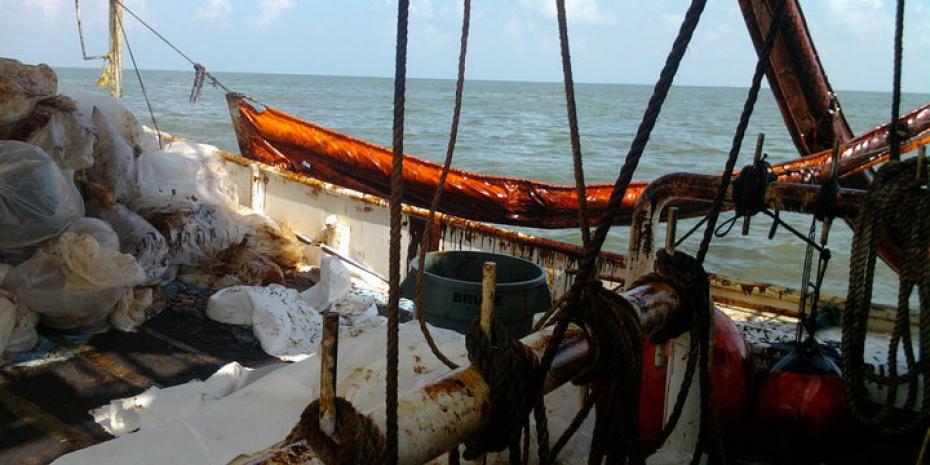 In a segment of MSNBC's the Ed Show focused on the ongoing human health effects of BP's 2010 Deepwater Horizon oil disaster, Ed read from what he referred to as "BP's Public Health Fact Sheet", which states,
"Studies by federal and state scientists and independent researchers have concluded that exposures of oil, oil constituents and dispersants for response workers and the public were well below levels that might be expected to raise health and safety concerns."
The sheet, published by the oil giant in May of 2014 and available online, is a two-page document filled with information and references to several studies, all concluding that cleanup workers, coastal residents and seafood consumers were not exposed to harmful levels, or doses, of toxic chemicals by BP's oil disaster in the Gulf of Mexico.
Photo: Boat deck covered in oil during BP cleanup, summer 2010. Credit: Adam Williams
In the document, BP relies heavily on an "independent" analysis of data entitled, Analysis and Modeling of Airborne BTEX Concentrations from the Deepwater Horizon Oil Spill. Published in July of 2011 by ChemRisk (now Cardno ChemRisk), the study found offshore workers were not exposed to harmful levels, or doses, of certain types of airborne chemicals, including benzene. Benzene is a known human carcinogen and has been linked to a host of other human health effects, including dizziness, headache, tremors, rapid heartbeat, confusion, bone marrow changes and low birth weights.
But just how independent were those researchers?
Both ChemRisk and BP note that much of data analyzed by ChemRisk in the "independent" study was data BP itself had collected and provided to ChemRisk.
Less transparent is the background of two of the ChemRisk study's co-authors, Dennis Paustenbach and Sherilyn Gross.
According to Gross's resume, prior to joining ChemRisk in 2010, she was an "Assistant Research Professor (at) the University of Colorado Health Sciences Center where she served as the Principle Investigator on behalf of the University of Colorado for the Shanghai Health Study (SHS)."
What isn't mentioned on her resume is that the $35 million Shanghai Health Study was overseen by the American Petroleum Institute (API), a petroleum industry trade organization, and was funded by BP, Chevron, ConocoPhillips, ExxonMobil and Shell.
The Shanghai Health Study's purpose, according to documents recently released by the Center for Public Integrity, was to question previous research on benzene. For more than 70 years, the oil industry has known about research finding benzene to be "so potent that there is no safe exposure level." The Shanghai Health Study was conducted to "protect member company interests", including those of BP, in part by questioning that finding and by casting doubt on other research linking benzene to certain types of cancer.
An email outlining the API's research strategy reads, "The scientific research program developed over the years by API's Benzene Task Force is designed to protect member company interests by developing strong scientific information on key benzene risk issues. This data, applicable across environmental media, has use in advocacy, risk management, litigation and risk communication."
Gross is listed in the API's 2009 Shanghai Health Study Communications Package as one of the study's Principal Investigators. In fact, a November 2006 document lists Gross as co-author on 8 of the 13 Shanghai Health Study's published articles or abstracts.
Another API concern was non-industry research finding workers exposed to benzene in two Ohio Pliofilm manufacturing facilities had high rates of certain cancers. Worried about the possibility of lowered federal exposure regulations, expensive lawsuits and legal actions by sickened workers against API member corporations, including BP, the API looked to Dennis Paustenbach and ChemRisk .
According to his resume, Paustenbach, another co-author of the "independent" ChemRisk study BP relies on, worked from 1991 – 1993 to conduct a "retrospective exposure assessment of benzene (Pliofilm) workers…under contract with American Petroleum Institute (API)." Pliofilm is a plastic material formerly made by Goodyear and used "for defense purposes, in parachutes, food packages and bandages."
Results of research conducted by Paustenbach on behalf of the API showed Pliofilm workers had been made sick by much higher exposure levels, or doses, of benzene than originally believed, further fueling debate over safe benzene exposure limits.
Paustenbach's results could help API corporate members, including BP, to convince governmental regulatory agencies not to lower federal benzene exposure regulations and help the industry to avoid lawsuits by sick workers who were only exposed to low doses of benzene. Workers exposed to low levels, or doses, of benzene below the thresholds established by federal regulations have a much harder time proving their illnesses were caused by benzene exposure.
More recently, in an email dated October 14, 2010, and with the subject, "our new paper…for your consideration", Paustenbach wrote to the API's Kimberly Wise announcing the publication of a review he had co-authored along with Gross and another scientist, "Please share with the benzene task force and/or whomever is reviewing our proposal on pliofilm task."
It is unclear which proposal Paustenbach was referring to or if it has been accepted and/or funded by the API.
What is clear, is that the "independent" study done by ChemRisk, referred to by BP on their "Public Health Fact Sheet", and published in July 2011 states,
"This work was carried out and funded solely by ChemRisk. More recently than April 2010, ChemRisk has provided consulting services to Cameron International Corporation on matters unrelated to the Deepwater Horizon oil spill. To our knowledge, ChemRisk has not provided consulting services to any other companies involved in the Deepwater Horizon oil spill during this time period."
BP, Transocean, Cameron and Halliburton were all involved in the Deepwater Horizon oil disaster and are all members of the API.
At the end of their Public Health Fact Sheet, BP says, "We are committed to transparency, and we will update these facts if necessary and continue to share information about what we are doing to meet our commitments to the people of the Gulf Coast"
Given BP's willingness to depend heavily on industry-aligned, not-so-independent science, Gulf Coast cleanup workers, residents and oil industry workers are likely to find the oil giant's self-professed commitment to transparency and information anything but reassuring.