Mississippi shrimper hospitalized after boating in Gulf; Doctors call it "acid reflux" [VIDEO]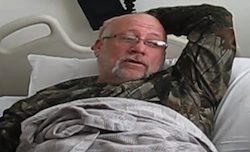 This weekend James "Catfish" Miller, was hospitalized after falling ill during a boat ride in the Gulf of Mexico.  A commercial shrimper from D'Iberville, Mississippi, Catfish is certain his illness was caused by chemical dispersants sprayed on the Gulf in response to the BP oil disaster.
But his doctor at the Biloxi Regional Medical Center called it "acid reflux," without doing a test for chemical poisoning.
Dahr Jamail wrote about Miller's ordeal in an Al Jazeera article published today:
"I've been vomiting, my head feels like it's going to explode, diarrhoea, and I keep passing out," Miller, who worked in BP's so-called Vessels of Opportunity (VOO) oil response programme, said from his bed at Biloxi Regional Hospital on November 5.

Four days earlier, Miller, his wife and dog were boating on the Gulf of Mexico near one of Mississippi's barrier islands when all three of them fell ill.
 
"My wife and I felt the chemicals immediately and my dog even started hacking like he was trying to cough up a bone," Miller explained.

Later that day he began vomiting and experiencing a severe headache and diarrhoea. Then on November 4 he passed out in the shower. Concerned by his uncontrollable nausea and bleeding in his esophagus, his wife took him to the emergency room.

"The doctor just told me I have acid reflux," Miller, who has been experiencing many of his symptoms since joining the VOO programme, said. "They don't even know what this is. I told him I needed to be tested for toxic chemicals. I'm in a major hospital and they are telling me they don't know what this is."
"You don't pass out from acid reflux"
Watch James "Catfish" Miller's hospital interview, by Denise Rednour:
More:
Read the full article from Al Jazeera.

Watch Catfish's homemade oil and dispersant testing in the Mississippi Sound this summer.