Reeling from BP, Alabama residents still seek assistance to rebuild after Katrina [VIDEO]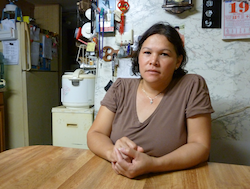 Bayou La Batre, Alabama - Like so many on the Gulf Coast, Ana Chau is dealing with two disasters.
This time last year, she and her husband made their living shucking oysters.  Now they are out of work, their industry crippled indefinitely by the millions of gallons of crude oil and toxic dispersant dumped into the Gulf of Mexico by BP.
They've been receiving checks from BP that partially compensate their lost income, but it is not enough to pay the bills.  Ana says they can afford food, but not school books for their three children.
Ana Chau in her kitchen.  Photo by Ada McMahon.
In the midst of all this new uncertainty, stress, and growing domestic strain, Ana and her family are still trying to recover from the Gulf Coast's other disaster, Hurricane Katrina.
Five years ago, the storm ripped a hole in their roof and lashed their house, inside and out, with wind and rain. After Katrina, they applied for government assistance to repair their home.  But they did not qualify because they didn't have the title to their house.  By the time the previous homeowner wrote a letter confirming she had sold it to the Chaus, the two-week window to apply for funding had closed.
Now the Chaus are one of hundreds of families along the Alabama Gulf Coast who, excluded from government assistance and without the means to finish repairs on their own, continue to live in or wait to return home to sub-standard, storm-damaged housing.
Watch: Ana Chau shows her home's Katrina damage
Disparities in Government Assistance
Ana's challenge of proving home-ownership is common here, where many low-income people own "heir property" that's been passed down through families without a paper trail.  This is just one of the barriers that have disproportionately excluded low-income communities and communities of color from government rebuilding assistance.
In 2005, Congress appropriated $11.5 billion in Community Development Block Grants (CDBG) for the Gulf Coast to rebuild after Katrina.  But many did not qualify for grants because they rented their homes; missed the two-week window to apply; didn't have the English proficiency or literacy to fill out the paperwork; were told by government officials, incorrectly, that they weren't eligible; or simply never knew about the grants.
Documentation of which individuals received CDBG funding is not publicly available, but residents here say you can see the discrimination in their communities.
Minh Van Le, a commercial shrimper in Bayou La Batre and board member of the South Bay Communities Alliance, says of CDBG allocation, "You've got like three houses in a row that have damage in the same condition, but why does one house get it and the other two or three didn't get it?... It's a lot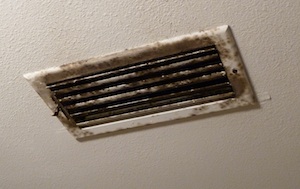 of unfair practice."
In Snow's Quarter, Bayou La Batre's historic African American neighborhood, several residents say only three houses have been rebuilt in their community.  Meanwhile Barbara Robbins worries that her 85 year-old-mother Gertrude will fall through rotting floorboards, which soften every time it rains and water floods the underside of their home.  Robbins did not know about CDBG funding until the deadline had passed, and said the same is true for many of her neighbors. 
Black mold growing on Rosie Robbin's vents. Photo by Ada McMahon.
Meanwhile, her sister-in-law Rosie, just down the block, has black mold growing on vents in her ceiling, exacerbating her son's asthma.  According to local housing codes, rebuilding their homes in this flood-prone area would require elevating them as well, at an estimated $20,000 cost.  Neither Rosie nor Barbara, who are on disability, have the money.
In addition to the hundreds of people like Barbara, Rosie, and Ana, who have been excluded all together, many applicants that were approved for CDBG funding a full three years ago won't get it.  Alabama is nearly out of money for rebuilding.
Of the $11.5 billion in Community Development Block Grants intended for the Gulf Coast after Katrina, less than $100 million was allocated to Alabama, with only $32 million specifically directed towards housing. The total allocation of funds to Mobile County to repair and rebuild housing met only approximately 7% of the estimated need.  Roughly 700 approved applicants in the county are waiting for funding that may never come, 438 of whom have homes that were "seriously damaged or destroyed."
It's about Human Rights
Last month, the United Nations released a report finding that the United States has not done enough to create affordable housing, schools, and hospitals after Katrina, "failings which have disproportionately impacted the poor and communities of colour."   These failings amount to human rights abuses by the U.S. government on Gulf Coast citizens, says another report by the NGO groups Advocates for Environmental Human Rights and the Gulf States Human Rights Working Group.
Human rights abuses after Katrina, particularly against communities of color and in the area of housing, are certainly not confined to Alabama.  In New Orleans, Louisiana, four major public housing projects have been torn down since the storm, fueling homelessness and prolonging the displacement of thousands of low-income African Americans for whom the city was home.  In Mississippi, $600 million intended for low- and moderate-income housing was instead spent on the state-owned port.
Keeping up the pressure, five years later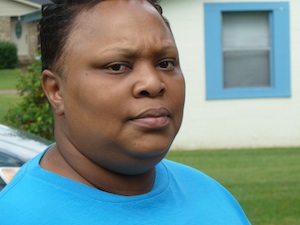 Since Katrina, many community members have become advocates, pressuring government officials and representatives to address their rebuilding needs and racial disparities.  Barbara and Rosie Robbins have traveled to Washington D.C. to meet with Representatives Nancy Pelosi and Maxine Waters, and to regional meetings with the community group South Bay Communities Alliance.
But community advocates worry that, a full five years after Hurricane Katrina and with the BP disaster dominating headlines this summer, it will be challenging to garner media attention and the political will to address pre-existing human rights issues.
Barbara Robbins outside the home she shares with her mother and daughter. Photo by Ada McMahon.
Barbara Robbins hopes BP and Katrina are not seen as either/or issues.  After all, in many cases it is the same people who are suffering from both disasters.  She's concerned that her ongoing housing issues have been, "put back on the back burner.  I understand there are other things going on, with the oil spill, but you've got to worry about the residents after Hurricane Katrina."
But there may be opportunities to make gains soon.
Just two days ago, in response to the aforementioned United Nations report on human rights, the U.S. government released a statement saying it will conduct an inter-agency examination of the U.N.'s human rights recommendations. Monique Harden of Advocates for Environmental Human Rights called it "a positive step forward."
In September, Fred Tombar, a Senior Advisor in the Department of Housing and Urban Development, visited Mobile county at the invitation of several community groups (The South Bay Communities Alliance, Equity and Inclusion Campaign, Mobile Center for Fair Housing, and the Bay Area Women's Coalition).
Despite five years of their advocacy resulting in mostly unfulfilled government promises, about 75 community members, including Barbara and Rosie Robbins and Ana Chau, met with Tombar.  After hearing account after account of residents' ongoing housing struggles post-Katrina, Tombar expressed shock and disappointment.  He told the community that he truly believes leaders in Washington, D.C. simply do not know how bad the situation is.  Tombar pledged to do what he can do to figure out a solution to the communities' housing needs.
Residents were struck by Tombar's words, but know they need to keep up pressure in order to see action.
Says Minh Van Le, "We won't stop. We'll let Washington know about it.  We're going to continue to try to get some help down here for these folks that have been left out."
For her part, Ana hopes her story and images of her house will be shared in Washington, D.C., to show what's really going on and finally secure some assistance for her family, for Bayou La Batre, and for others on the Gulf Coast.