In D.C., Gulf Coast residents "Occupy Feinberg" and challenge pipeline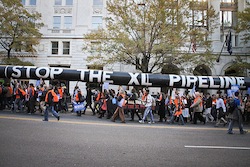 Yesterday, a contingent from the Gulf Coast joined twelve thousand people in a nonviolent protest against dirty energy at the White House.  The advocates are trying to stop President Obama from approving the  Keystone XL pipeline.  If built, the 1,700-mile pipeline will stretch all the way from Alberta, Canada to the Texas Gulf Coast, where "tar sands" sludge would be refined into oil.
A broad coalition has rallied to oppose the massive fossil fuel project, including climate activists; indigenous people whose communities would be threatened by the tar sands extraction in Canada; Nebraskans who worry that a leak could contaminate a key water source for several states; and communities in Houston and Port Arthur, Texas that border oil refineries and already face high costs to their health and environment.
The contingent from the Gulf Coast, which included residents from Florida to Texas, was organized by the community groups Gulf Change and Operation People for Peace.  They were supported by 350.org, the international climate advocacy group that helped organize the tar sands protest.
In addition to opposing the pipeline, the Gulf Coast contingent is in D.C. to call for justice and corporate accountability after the BP oil disaster.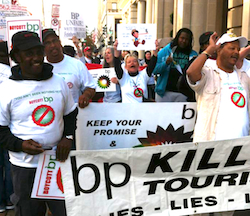 Today, the group protested at BP "claims czar" Kenneth Feinberg's office, in an action they call "Occupy Feinberg."  The advocates are challenging Feinberg's refusal to compensate people who have become ill from the BP oil disaster. 
Feinberg heads the Gulf Coast Claims Facility (GCCF), established by BP (in cooperation with the federal government) to compensate people for economic losses caused by the BP oil disaster.  He has failed to pay a single claim to people who have faced severe health symptoms (like seizures, rashes, internal bleeding, persistent respiratory illnesses, and neurological problems) after being exposed to BP's crude oil and toxic dispersants.
Protestors say Feinberg also consistently denies and underpays the claims of fishermen and other impacted residents.  They question his closeness to BP, which pays his law firm more than $1 million per month for its services.
Meanwhile, in Louisiana this weekend, residents voiced similiar criticisms of Feinberg and the ongoing impacts of the BP disaster at a Congressional town hall meeting.
Top photo by Clayton Conn, bottom photo by Karen Savage.