A homeowner and other unexpected faces of homelessness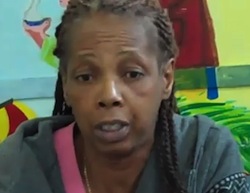 "Homeless" equals "hungry," so people think.  So that is the way society addresses homelessness; the Homeless are fed in soup kitchens, but have no place to store their food.  Homeless people are often also assumed to be unemployed and on the streets.  But there are new, unexpected faces of homelessness on our blocks.
When I interviewed Ms. Debra Brown she was both homeless, and a homeowner with a job. Devastated by Katrina, she was displaced and became another face of homelessness.  Ms. Brown discussed feeling like, as an American citizen, she was not being treated as well as refugees were treated.  In the years following Hurricane Katrina, many on the Gulf Coast brought attention to how the treatment of Katrina survivors violated their human rights.  Our preconceptions of "refugee" and "citizen" were turned on their head by Katrina, and the government's response to displaced citizens. [Read New York Times article Call Them Refugees if It Gets the Job Done].


Watch Ms. Brown on being a "refugee":  
 
Ms. Leevones Dubose's story demonstrates still another level of homelessness:  a woman going through domestic violence.  Abused by her spouse, and with young children, she had to flee.  Her husband froze her bank account, leaving her without money, and without a home to return to.  Only by the Grace of God was her mother in a position to receive her and the children.


Watch Ms. Dubose tell her story:

Both stories of homelessness point to the need for a new definition of "homeless", and a new way of supporting homeless people. Let us begin to think that if we feed the homeless or clothe them, they have not had their urgent needs met. The homeless need homes with some sustainability.
And persons affected in the U.S. by a disaster truly need a resettlement plan that will embrace persons at all levels, just as the refugee resettlement plan does.  Many are still displaced from Hurricane Katrina, without the means to come home. 


If you found yourself homeless, how would you want to be addressed to be made whole (medical care/food/water/clothing/permanent shelter with a job to sustain)?  Let us give thought and have the conversation. I love you. Please comment below to join the conversation.
Related posts:
----------
Linda Jeffers is a community educator and organizer in New Orleans, Louisiana. She has been organizing for thirty one years, and lived in New Orleans since 1970.  During Hurricane Katrina, she became a voice and organizer of evacuees in the Astrodome and throughout Houston, Texas.  She has worked on issues such as hurricane recovery, homelessness, and the BP oil disaster.  Linda bridges communities with churches, and helps to develop policy at a local, state, and federal level.  She also gathers stories and testimonies from the people, for the people, documenting lives on the Gulf Coast.