Relationships built after Katrina help communities face BP disaster (Video)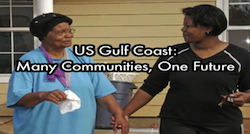 In the wake of Hurricanes Katrina and Rita, communities across the Gulf Coast began to meet, share experiences, and work together across previous geographic and racial divides.  Now facing new and ongoing challenges like the BP oil disaster, hurricane "recovery" efforts, and coastal land loss, these communities continue to rely on and strengthen these relationships.
Many Communities, One Future, a short video produced by the Sustainable Communities Network, shows how communities across the Gulf Coast are coming together to fight for a shared future.
Watch the trailer:
Sharon Hanshaw is one of those community members who became galvanized by the lack of help after Katrina provided to her low-income black community, compared to her white neighbors in Biloxi, Mississippi.  Five years later she has founded Coastal Women for Change, is building a community garden, and has traveled to Switzerland to testify to the UN about Human Rights abuses following Hurricane Katrina.
Of Many Communities, One Future, Hanshaw says:
"This is what we need; all communities of folks from Alabama to Mississippi and Louisiana, real people with real solutions, coming together as one. Until we as a people realize that we share the same plight and working together is the only way to go, we will continue to go backward. This footage gives me hope for our young leaders to follow and create a positive change in this world. History is being made as we speak, and this documentary tells part of that story."
Two groups that have played an important role in strengthening connections across the Gulf Coast are the Gulf Coast Fund for Community Renewal and Ecological Health and the Sustainable Communities Network (with support from the Institute for Sustainable Communities). Both have provided much needed resources and staff to bring groups together across the region and build lasting lines of communication -- and both played a part in developing the concept of Bridge the Gulf.
Watch the full video here: http://www.youtube.com/watch?v=ri-abEpuiJQ&feature=youtu.be