BP protesters thank oil giant for unintended publicity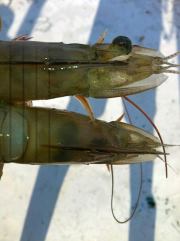 By Michele Walker-Harmon. BP protesters are thanking oil giant BP and their highly paid public relations firm, Purple Strategies, for helping to shine the spotlight on the continuing effects of BP's Oil Drilling Disaster, effects which include ongoing health issues, questions about seafood safety and lack of adequate clean-up in many coastal areas.   
 
For months activists have been leading their own volunteer public relations campaign, contacting reporters, documenting real conditions along the coast, and leading non-violent direct actions in an effort to let the world know, "The Oil is Still Here and So Are We!".  During our action at the Gulf Shores National Shrimp Festival, supported by PowerShift, Gulf Change and the Alabama Oil Spill Aftermath Coalition, activists saw the camera crew on the roof and we assumed they  were media filming the crowds at the festival. When they panned the cameras our way, we made sure they knew we were there, in hopes of getting media coverage.
 
Since learning the film crew was filming a BP commercial and we had been included in the final cut, activists are continuing to simply tell the truth about the ongoing, devastating effects of BP's Oil Drilling Disaster upon their Gulf Coast. 
Photo: One-eyed and no-eyed shrimp caught near Horn Island, MS, November 2011 (Photo credit: Gulf Change)
 
Kindra Arnesen, resident of South Plaquemines Parish in South Louisiana describes the  children's health crisis in her community,
 
"...we have 388 children in the local elementary school and in that school we have sick kids all over the place, they're suffering from upper respiratory infections, severe asthma, all the sudden, in kids that had nothing wrong with them before. Skin conditions, lesions in between their fingers, around their mouths.  As of April 2011, we had a closet full of nebulizers to help them breath.  A closet full of nebulizers for a school with 388 kids.  Where's the red flag?"
 
Charles Taylor, of Mississippi, describes BP clean-up in his area,
 
"BP's not cleaning it up, they're covering it up. But no matter how much they try to cover it up, the oil's still coming to the surface, leaving long orange streaks and oily puddles where families take their kids to play. I can walk a one-mile stretch of beach every morning, and still pickup anywhere from half a pound to a pound of gooey orange/brown tarballs ranging from dime sized to silver dollar sized."
 
Concerned fishermen have documented shrimp with deformed eyes and crabs with structural deformities. 

Gulf Coast activists are calling for health care for effected clean-up workers and residents, a truly independent examination of seafood safety, and for the Coast Guard and governmental agencies to force BP to continue real clean-up efforts to deal with the oil that remains across the coast.  They are also calling for the the Gulf Coast Claims Facility, the victim's compensation fund paid for by BP and administered by Kenneth Feinberg, to immediately pay all economic and health-related claims. 
 
For more information, for an interview with coastal residents or for a tour of current conditions along the coast, please contact Kimberly McCuiston at 251-279-7769 or Michele Walker-Harmon at 251-213-4884.

Michele Walker-Harmon is a happily married mother of two, born and raised along the Alabama Gulf Coast. She's the founder of The Alabama Oil Spill Aftermath Coalition and an Alabama delegate for Gulf Change, also the owner of the website http://www.alabamashrimpfestival.com/. She says, "I believe together we can help hold BP accountable for the havoc they've wreaked on all of our lives across the Gulf Coast."