Gulf Watch: Immigrant Workers Make Walmart Kneel and The RESTORE Act Passes Finally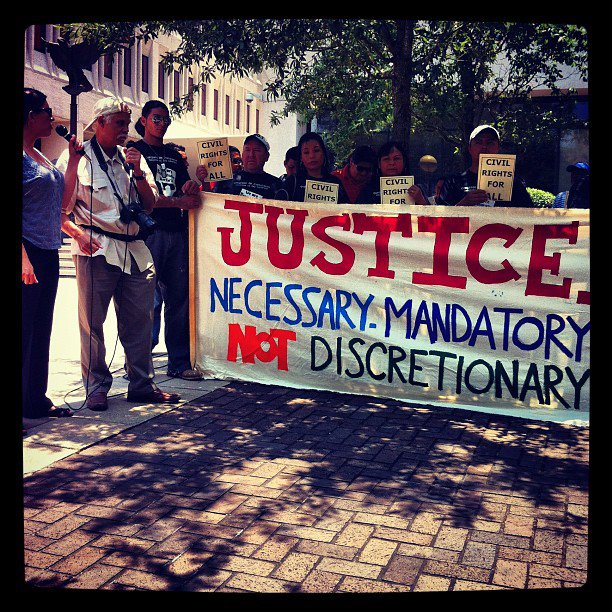 As we approach the 4th of July, the ground is finally breaking for coastal restoration and immigrant workers' rights in the Gulf Coast region. Two reasons to laugh a little harder, and have an extra beer or two in actual celebration as opposed to laughing and drinking to keep from crying: Congress finally passed The RESTORE Act, which will send 80% of BP fines from the oil disaster to the Gulf Coast; and, immigrant forced labor is finally taken seriously by mainstream media and corporations. While progress is fueled up on both fronts, neither represent clean rides to victories. Let's look at both: 
1. The RESTORE Act for too long resembled a deadbeat dad who promised repeatedly to show up for Christmas bearing gifts, only to disappoint at every turn. The RESTORE Act had come up for multiple votes, and frequently passed one congressional chamber or the other, though never officially crossing the finish line, its fate always tied to some other stinky bill. Even now, after finally approved by Congress, riding on a transportation bill clunker, there's still a lurking suspicion of last-second sabotage even as President Obama is assured of signing it into law. But truly this is probably one of the few, if not the only, pieces of legislation that had a commanding consensus among advocates, scientists, Democratic legislators, Republican legislators and, most importantly, residents, probably since 9/11. The support behind The RESTORE Act feels less like bipartisanship, which is just agreement between two political parties, and more like true patriotism, if not true democracy. Of course there's a flipside. RESTORE's passage comes at the expense of reduced funding for many public transit needs. For a great explainer of the many downsides to the transportation bill, please read Ben Adler's post at Next American City. Meanwhile GNO Inc. reports that RESTORE could generate 57,697 jobs within its first 10 years. In Mississippi, the state has prioritized local residents for many of those jobs. The Gulf Coast has had more than its fair share of disasters -- disasters that led to an imposition of new agendas, business plans and policies foisted upon Gulf Coast communities with little consideration for the wishes of its residents, nor much of a benefit to them, especially the most vulnerable. This could perhaps be one instance where a Gulf-Coast generated "best practice" model could be exported for application to other parts of the nation as opposed to the other way around. 
Watch these videos featuring Gulf Coast residents who've been impacted by the BP oil disaster and who have struggled for coastal restoration:
A discussion with Mississippi coastal restoration advocate Sharon Hanshaw on organizing women to restore the Gulf Coast. 
A discussion with documentarian Monique Verdin about the painful recovery of her own Louisiana Gulf community through multiple disasters.
A discussion with Thao Chi Nguyen on creating alternatives for Asian-American Fishers in Mississippi after the BP disaster. 
2. There's been an awakening in the Gulf Coast among immigrant workers and guestworkers who are forcefully saying for themselves what many watchdog organizations, labor unions, social justice advocates and independent journalists have been reporting for years: That manufacturing businesses up and down the supply chain -- from Gulf seafood processing plants to multinational corporations like Wal-Mart -- have been profiting at the expense of overworked and abused workers who are made especially vulnerable due to their non-native status in the country. The National Guestworkers Alliance and Congress of Day Laborers have organized a number of public demonstrations and campaigns to raise more awareness about this. I don't know how it's escaped the mainstream media's attention that the workers have been gaining significant ground against their corporate targets in the struggle for worker rights. Here are three things you need to know about where the current campaigns stands:
After H-2B guestworkers filed a legal complaint with the Department of Justice alleging multiple counts of forced labor and violent threats/attacks from their employers at C.J.'s Seafood, Walmart launched a quick investigation into C. J.'s, which supplies them with seafood . That investigation turned up nothing, they said, though the NGA said they failed to talk with any of the guestworkers who actually filed complaints. Weeks later, after demonstrations in both Louisiana and New York, Walmart has launched another investigation, this time deciding to suspend their contract with C. J.'s Seafood until it is completed. That suspension likely had more to do with the investigation from NGA, which uncovered 644 federal labor violations at 12 other Walmart stores that uses guestworkers -- 201 of which happened in the last five years. The Worker Rights Consortium said, after investigating C. J.'s that, it "is one of the most egregious workplaces we've examined, whether here or overseas."
Despite these investigations and infractions, Walmart still won't meet with the workers represented by the National Guestworkers Alliance. This past weekend, the guestworkers went on a 24-hour hunger strike to get Walmart's attention. NGA executive director Saket Soni released the following statement: "Walmart's suspension of its supplier C.J.'s Seafood is an important admission by the world's largest retailer that its house is not in order. … Still, Walmart refuses to meet with the workers to discuss how to end forced labor on its supply chain. That's why the workers are conducting a 24-hour fast today. They're joined in their fast by 20 family members in Mexico, as well as more than 500 Americans who are conducting solidarity fasts of their own. The National Guestworker Alliance will continue to press Walmart to live up to its promises to workers in its own Standards for Suppliers, and to adopt more meaningful civil and labor rights standards."
In a separate, though not entirely unrelated campaign, the "Southern 32" continue to speak out against harassment from ICE and local law authorities. After the Supreme Court's decision striking down most of the provisions of Arizona's SB 1070 bill, but preserving the right for police to ask anyone they suspect might be undocumented immigrants for proof of citizenship, the "Southern 32" immigrant workers held a rally in New Orleans Central Business District demanding that the Obama administration finally cease all deportations. A new ICE policy was supposed to relax enforcement of deportation proceedings for immigrants who hadn't broken any laws, who were working and who were advocating for civil rights protections. Apparently, though, local ICE officials have afforded local immigrant workers no such guarantees on that order, and so the "Southern 32" has been protesting not from  the shadows but on Main Street demanding their right to pursue economic opportunities.