Still Suffering After BP Oil Spill, Fishermen Fear Extinction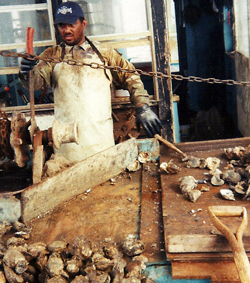 By Jesse Muhammad, excerpted from FinalCall.com. Gary Barthelemy says he may never recover from the catastrophic BP oil spill, has zero cash flow and the total demise of a once successful industry is nigh.
"I may just have to retire. Since the BP oil spill, we haven't had anything to fish because all of the reefs are dead. In all of my years I've never seen the waters this dead like I have in the last two years," Mr. Barthelemy, 66, told The Final Call.
He says a normal season would produce millions of oysters for them to fish over a 3-4 year span. They would then be able to sell them to dealers on the dock.
"Our community has lived off of the water and now our community is dead. We have no cash flow. But it's not just Black fishermen. Everyone is suffering. BP made promise after promise and has not followed through," said Mr. Barthelemy, who served as president of Fisherman and Concerned Citizens group. He has been an oyster fisherman for 45 years.
"This is the first time in generations we have had our waters taken from us. Our businesses and community has collapsed. There are no oysters on the east bank, which was considered a rich fishing ground. The oyster industry is no more," oyster fisherman Byron Encalade told The Final Call.
Photo from the Louisiana Oystermen Association website via FinalCall.com.

Read the rest of the article on FinalCall.com