Troubled Waters: Discussion with Sharon Hanshaw on Organizing Women to Restore the Gulf Coast
Sharon Hanshaw is the Executive Director of Coastal Women for Change in Biloxi, Mississippi, which she founded after Hurricane Katrina when she saw the local Recovery efforts leaving out her Black community.  Hanshaw spoke with Bridge The Gulf and the Institute for Southern Studies for the report Troubled Waters: Two Years After the BP Oil Disaster, a Struggling Gulf Coast Calls for National Leadership for Recovery.  She discussed why her work centers around women, and why coastal restoration is among her organization's top priorities.
Bridge The Gulf / Institute for Southern Studies: What is Coastal Women for Change working on now?
Sharon Hanshaw:  The work we do now is advocate for young children in the juvenile detention center in Harrison County. Coastal Women for Change is recruiting men to mentor the young boys. Another very important initiative is our "Healthy Wealthy and Wise" initiative through our community garden.  We also help mothers through resources to start their own businesses.  One successful way we have helped is with an in-home child care business, which creates jobs for the child care providers, while young parents pursue their careers. And our latest venture is the coastal community restoration project in partnership with Oxfam.
BTG / ISS: What's it like where you live?
Hanshaw: Now where I live in Biloxi, we sit inland 180 feet from bodies of water, from the beach front and the back bay. It's known as Ward 2. The community where I was raised is predominantly African Americans, Asian Americans, a few Latinas, and a few white people. And in this community is what we call the "underserved population." This community is still in recovery,  there's a great need for infrastructure for our people in the low lying areas.
Growing up there my family had a restaurant, the Kitty Kat restaurant. It was six of us children and my father was a Baptist minister, and he really believed that small business is the way to go. Basically you must own something, that creates a sense of ownership in your community. So when I think about Biloxi, I'm thinking about 32 local businesses in our area that were thriving: a cleaners, restaurants, barbers shops, beauty shops, local grocery stores, community stands where you buy snowballs, and snacks after school at Uncle Carl's place – It was a thriving business area where everyone had their own businesses. Now the community is so different because you don't see the mom and pops businesses. The dynamic of our community that once was is no more. Presently we see a lot of hopelessness in our peoples' eyes.  
BTG / ISS:  What is Coastal Women for Change's main priority for 2012?
Hanshaw: Our main priority is coastal restoration. We're trying to save the coast. We're trying to preserve the land. We're looking around at the water rising, and the beachfront housing and the back bay housing is no more. It's like we're just stuck on an island. So we're trying to restore the coast by addressing the full economic and ecological restoration of coastal communities. We do this by staying involved, writing our Congressman and following the bills that are in the House that affect the Gulf Coast region.
BTG / ISS: On coastal restoration, will you explain a little bit more about what's happening to the coast?
Hanshaw: Since the oil spill it's even worse because your land is being taken away by erosion.  All this poison – all this oil is coming up and it's eating up the sands, eating up the fishery, eating up the ground. So the land is slowly leaving. The RESTORE Act puts us one step closer to providing the resources necessary to overcome the challenges brought by Deepwater Horizon tragedy. We're negotiating with our legislators on that now.  And environmental justice is needed. Our environmental state is in great need right now, health-wise and job-wise. We have asthmatic children, they're getting sicker because the lack of air quality and clean water.
So we must advocate to save our coastal area through coastal restoration. We're trying to build levees, build marshlands, build estuaries -- we never had to do those things before. We're just finding out we can make a change through this knowledge, through education.
BTG / ISS: Tell me more about the RESTORE Act.
Hanshaw: Yes, this is about local jobs created for local people to restore the coast, and not bringing outsiders in to do work that your local people can do. Economic development without your local people -- what kind of economic development is that?
BTG / ISS: Can you address why you chose to center your work on women?
Hanshaw: After Hurricane Katrina we women were thinking "how can we rebuild?"  I noticed that the women were at the forefront of things, but always overshadowed by the men.  Women's voices seem to get lost somehow.  So I felt, along with other women, that we should focus on women's challenges as well. We saw women taking care of children, we saw women trying to find jobs, we saw women taking charge while the men were saying, 'I have to leave here to try to find work.' They didn't think to create something where they are, but of course the women stayed on task.
We made sure we had regular meetings in one of the few places standing, Richmond Funeral Home on Main St. And it was only women that were meeting.  I will always remember those days.  It is sketched in my mind as a reminder of what we can do if we just move.
Eventually it was time to name the women's group. So I thought about it and wrote down several names. I brought the names back to the group. The name we voted on was "Coastal women." The name alone says something. It does not exclude my sisters across the Gulf Coast or in developing countries. This devastation was larger than Biloxi.  It was coastal.  It affects all coastal women.
Women were the ones being cheated, used, and mishandled. When I go to a meeting place where there are majority men they always assume I'm the secretary. I beg to differ. I'm not the one to take the notes, unless it's for our collective power. You can get your brother here to take the notes.  But we have been told all our lives to stand behind the men. But not today.  I work, I'm educated, please respect me as such. I don't have to have the lower step because I'm the woman.
So we had no choice but to be "Coastal Women for Change".
BTG / ISS:  What can Congress do to support your work?
Hanshaw:  My message to Congress: Allow our voices to be heard, and make changes if need be. Trust us to make the right decision. After all truly we're the experts.
BTG / ISS: What's your vision for Biloxi 20, 40 years from now?
Hanshaw: I would like to build community through people and small businesses building wealth. I would like us to have educational facilities that really support the community. And I would like the history books to lift up our true history. Not the history that we are not in,  We have people from Biloxi who've made history, for example, Dr. Gilbert R. Mason.  These people made history but it's not in any of the history books.
BTG / ISS: Who was Dr. Gilbert R. Mason?

Hanshaw: Dr. Mason was the only African American doctor in Biloxi. He was the Biloxi Branch NAACP President. He protested the beaches, because Blacks could not go to the beach. This man stood and put himself in harms way for change, even though people responded with violence.  Thank God for his vision to step out on faith even if it meant jail time. Beaches, Blood and Ballots, that's the name of his book.  Everyone should read it because it tells you what we went through as a community in Biloxi.
BTG / ISS: What motivates you to do this work everyday?
Hanshaw: When I see someone come to our urban garden and they say, "You know what? I'm going to volunteer and help you."  Someone told them about the garden and they came to volunteer.
So don't get discouraged because not everybody buys into it, just keep doing the walk. And that's what motivates me to go on. When you see a change come about even in a small way it's a plus. When I think about my children, especially my grandson, he brings me joy, especially when he talks and enjoy being in the garden. During my travels and upon my return my grandson asked me if I saw President Obama. The fact that he is listening and remembers what I tell him is so powerful. He knows about the importance of being involved. That motivates me to continue the walk and keep focus on the prize.
BTG / ISS:  If some potential volunteer was reading this, what could they do for you?
Hanshaw: If you could volunteer a week of your time, come here and see what it's like in Mississippi now. Hearing and being here are two different things. If you would do a site visit to our community you would feel a bond. We will welcome you with open arms and share our experiences with you and learn from you as well. You can also volunteer online, so if you want to volunteer please contact our organization: http://www.cwcbiloxi.org/



Interview conducted by Ada McMahon.  The transcript has been edited for clarity and length.
Read the Troubled Waters report from Institute for Southern Studies.
Read and watch more interviews with Gulf Coast community leaders.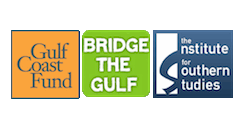 This content was produced by Bridge the Gulf Project and the Gulf Coast Fund for Community Renewal and Ecological Health, in collaboration with the Institute for Southern Studies.