On 5th Year Commemoration of Oil Disaster, BP Turns Away Impacted Fisherfolk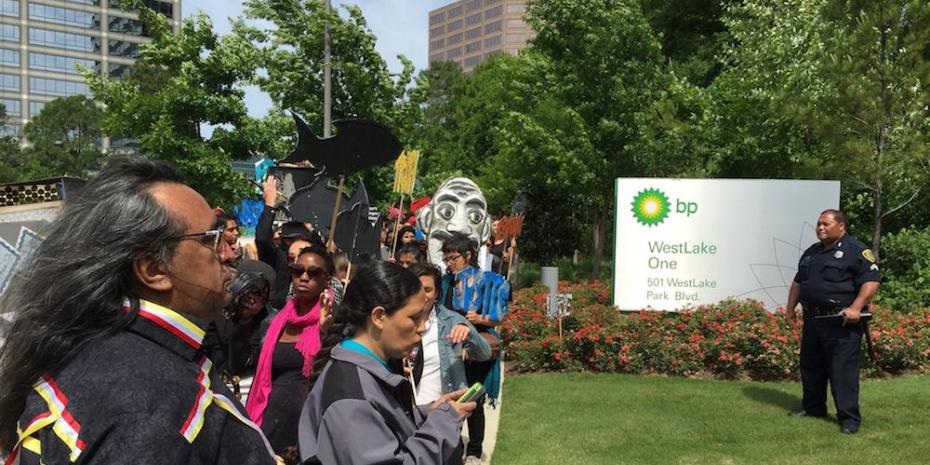 On Monday, April 20th, Gulf Coast fisherfolk, residents, and artists gathered at BP's Houston headquarters to speak out about the ongoing impacts of the BP oil disaster. Advocates said fisheries and the communities that depend on them are in serious decline. "When BP says it has done right for the Gulf, they are lying," said Thao Vu* of Biloxi, Mississippi, "Less than 18% of the health claims submitted have been approved and even fewer have actually been paid out. While BP plays games with our media and with our court system, our fishing families are sick and suffering."
The gathering was organized by groups such as Gulf Future Coalition, Texas Environmental Justice Advocacy Services (Houston, Texas), Mississippi Coalition of Vietnamese American Fisher Folks and Families (Biloxi, Mississippi), Steps Coalition (Biloxi, Mississippi) and Operation Homecare (Alabama), and was part of the #GulfSouthRising week of action. #GulfSouthRising events in all five Gulf Coast states (including this one in New Orleans, Louisiana) commemorated the disaster and called for BP and elected officials to take responsibility for the ongoing damage to ecosystems and people.
Photo Credit: Karen Savage, Bridge the Gulf.
The BP oil disaster began on April 20th, 2010, when the Deepwater Horizon rig exploded offshore in the Gulf of Mexico, killing 11 men. Crude oil then flowed for 87 days into the Gulf of Mexico, which was also sprayed with nearly 2 million gallons of toxic dispersants. Since then, advocates and community leaders across the Gulf Coast contend, countless lives of clean-up workers, fishermen, and other coastal residents have been lost or irrevocably harmed, due to economic hardship, illness from chemical exposure, and the loss of culture and ways of life that come with eroded coastal ecosystem and communities.
On Monday, the Houston Police Department kept the group from approaching BP's buildings. Representatives of BP watched from a distance, declining to speak to a group of Vietnamese American fisherfolk from Galveston, Texas, and declining to accept over 100,000 petition signatures gathered by Care2 and Gulf Restoration Network.
*Full disclosure: Thao Vu is an advisor to Bridge The Gulf Project.